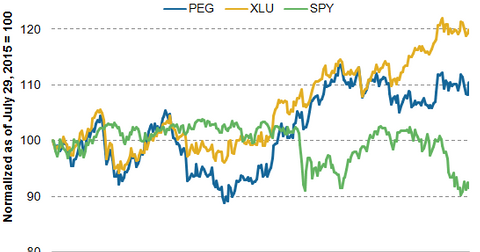 What's Public Service Enterprise's Valuation after 2Q Earnings?
By Vineet Kulkarni

Updated
Public Service Enterprise Group's valuation
As of July 29, 2016, Public Service Enterprise Group (PEG) is trading at an EV-to-EBITDA (enterprise value to earnings before interest, tax, depreciation, and amortization) multiple of 9x. Its average five-year EV-to-EBITDA is near 7.5x. This shows that Public Service Enterprise is trading at a premium compared to its five-year historical EV-to-EBITDA valuation.
Public Service Enterprise's forward EV-to-EBITDA multiple for fiscal 2016, using its 2016 EBITDA estimate, is 8.2x. This indicates expectations of slightly lower EBITDA for the company in 2016. The utility sector's (VPU) EV-to-EBITDA average is 8x.
In comparison, FirstEnergy (FE) has an EV-to-EBITDA ratio of 8.2x. Entergy (ETR) has a ratio of 7.8x. Exelon's EV-to-EBITDA ratio is 8.3x. The EV-to-EBITDA multiple is a valuation metric that indicates whether a stock is overvalued or undervalued regardless of the company's capital structure.
Public Service Enterprise is trading at a trailing-12-month price-to-earnings valuation of 16.2x while FirstEnergy and Exelon are trading at multiples of 12x and 15.3x, respectively.
Article continues below advertisement
Market performance
So far in 2016, FirstEnergy has risen nearly 11%. Public Service Enterprise and Entergy have risen nearly 18%. US regulated utilities outperformed their hybrid counterparts in 2016 by a wide margin.
Hybrid utilities experienced many periodic hiccups this year such as PJM Interconnection's capacity auctions and a stay on the demand response rule. These issues dragged down the company's market performance. On the other hand, regulated utilities were comparatively better placed due to their low commodity exposure and safer business model.