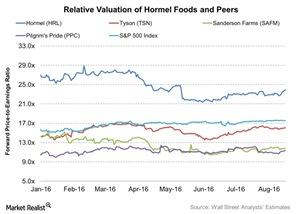 Analyzing Hormel Foods' Valuation after 3Q16
What does a forward PE ratio mean?
In this part, we'll use the forward PE (price-to-earnings) ratio to compare Hormel Foods (HRL) with its peers in the meat industry. The forward PE ratio indicates how much an investor is willing to pay for a company's EPS (earnings per share) for the next four quarters. It's measured by dividing a company's current price by its EPS estimates for the next four quarters.
Article continues below advertisement
Hormel is the highest among its peers
In the above chart, you can see the forward PE ratios of Hormel Foods and its peers. Hormel Foods is trading at a PE ratio of 22.9x as of August 22. It rose by 5% after the results were released. Analysts expect Hormel Foods' adjusted EPS to rise by 23% and its revenue to increase by 2% in fiscal 2016. As we discussed in Part 7, the company also raised its EPS guidance to $1.60–$1.64. The earlier EPS guidance range was $1.56–$1.60. This represents a 21%–24% rise in EPS over fiscal 2015.
Tyson Foods (TSN) is trading at a PE ratio of 16.09x as of August 22. Tyson's valuation multiple fell by ~2% after its 3Q16 results were released on August 8. The company raised its fiscal 2016 EPS guidance to $4.40–$4.50 due to strong results in each of its segments. Analysts estimate a 43% rise in Tyson Foods' earnings in fiscal 2016. However, it's trading at a lower PE ratio than Hormel Foods. This is likely because its revenue might fall 10% in fiscal 2016 due to declining beef, pork, and feed prices.
Sanderson Farms (SAFM) is trading at a PE ratio of 11.8x. Sanderson Farms' earnings are expected to fall 25% in fiscal 2016. Its revenue will likely be flat compared to fiscal 2015. Weak exports and lower product prices could continue to impact the company's fiscal 2016 results.
Pilgrim's Pride (PPC) is trading at a PE ratio of 11.3x. Analysts expect Pilgrim's Pride's earnings to fall 21% in fiscal 2016 with a 1% decline in revenue. This justifies the lower PE ratio.