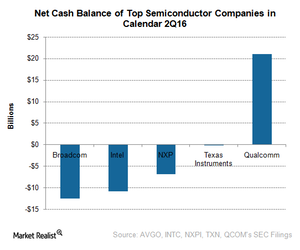 Analysts: XLNX, ARMH Are Possible Acquisition Targets for QCOM
By Puja Tayal

Updated
Rumors surround Qualcomm
In the previous part of this series, we saw that Qualcomm (QCOM) is among the few semiconductor companies with a strong net cash balance, as many of its peers are highly leveraged due to expensive acquisitions. A low interest rate, slow demand, and strong cash reserves make Qualcomm a potential buyer for companies such as Xilinx (XLNX), NXP Semiconductors (NXPI), Cypress Semiconductor (CY), or ARM Holdings (ARMH), according to analysts. All of these companies could help Qualcomm expand its exposure to the IoT (Internet of Things) or data center space.
Article continues below advertisement
Xilinx
According to StreetInsider, Xilinx received an acquisition proposal worth $15 billion. Many analysts believe that Broadcom (AVGO) and Qualcomm (QCOM) are potential suitors for the dominant FPGA (field programmable gate array) maker Xilinx, which has an enterprise value of $10.9 billion.
Xilinx's FPGAs could boost Qualcomm in the data center market and reduce the gap between Intel's server chips and Qualcomm's server chips. Some analysts believe that spending $15 billion on Xilinx would not be feasible for Qualcomm.
NXP
Cowen and Company analyst Tim Arcuri stated that NXP would be a better acquisition target for Qualcomm as it offers a dominant position in the automotive semiconductor market. Plus, the acquisition would be tax-efficient due to NXP's offshore capital. NXP has an enterprise value of $36.5 billion.
Article continues below advertisement
ARM 
Recently, SoftBank agreed to acquire ARM for $32 billion. ARM-based processors are used in 95% of smartphones in the world and ARM is now looking to gain share in the data center and IoT space. ARM-designed chips have a 1% share in the data center market and a 25% share in the IoT market. ARM earns all of its revenue through licensing and Qualcomm earns the majority of its profit from licensing. Acquiring ARM could make Qualcomm a leader in the IoT space. The SoftBank–ARM deal has no termination fees and Qualcomm could use its $21 billion net cash and raise new debt to fund the ARM acquisition.
Cypress
If Qualcomm is not looking for a major acquisition, it could acquire a smaller player such as Cypress, which offers a complete embedded solution. Cypress could offer Qualcomm a complete product portfolio to grow in the IoT business. At present, Cypress has an enterprise value of $4.1 billion. Qualcomm would not need to take on new debt to fund the acquisition, even if it acquires Cypress at a strong premium.