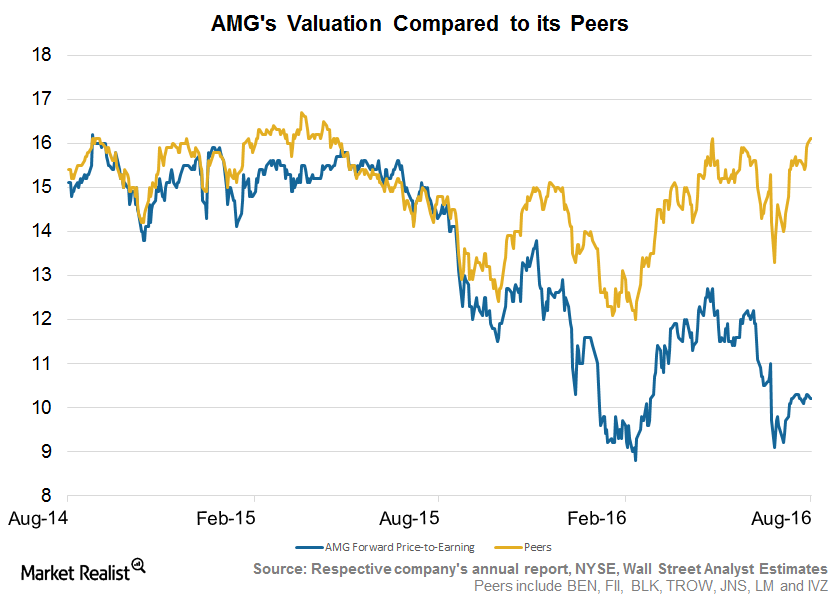 AMG's Valuation Gap Widened on Weak Performance in 2Q
By Robert Karr

Aug. 3 2016, Updated 11:06 a.m. ET
Repurchases
Affiliated Managers Group's (AMG) stock fell by 30% over the past year—mainly due to client withdrawals and declining valuations. The company doesn't declare dividends. Its strategy is to redeploy its profits in new affiliates, repay the debt to reduce leverage, and buy back shares at a fair value.
The only source of return for Affiliated Managers Group's investors is capital profits in the equity. The diversification of its funds in equity, debt, and alternatives provides an option to investors seeking returns above the index returns over a long period.
Affiliated Managers Group repurchased its own stock totaling $366 million in 2015. In 2016, it's looking to deploy cash flows in new affiliates. As a result, it's expected to see lower repurchases.
The company's policy is to repurchase the shares that are equivalent to 50% of its expected net income in a given year. Its competitors had the following dividend yields:
Together, these companies form 0.66% of the SPDR S&P 500 ETF (SPY).
Guidance for 2017
Affiliated Managers Group expects economic EPS (earnings per share) to be $14–$16 per share with a ratio of price-to-economic EPS of 10x–8x. The guidance assumes the effect of new investments in fiscal 2016 and a normal model convention of 2% quarterly market growth beginning in 4Q16 and each quarter thereafter. This includes normal model convention for share repurchase in 2017 equal to 50% of the annual economic net income.
Widening Valuation Gap
Affiliated Management Group is valued at 10.2x on a one-year forward price-to-earnings ratio—compared to 16.1x for its peers. Affiliated Managers Group's discount widened due to weak performance. Earnings for other asset managers have started to pick up at a decent pace. Companies with a diversified asset base could have an edge over local players as the select global markets offer potentially better opportunities.
Investors seem to prefer low-cost ETFs as alternative asset managers fail to deliver above average returns. Affiliated Managers Group is working to attract new affiliates in order to expand its market. However, the performance of overall investments should be key for future fund deployment by the clients.
Article continues below advertisement