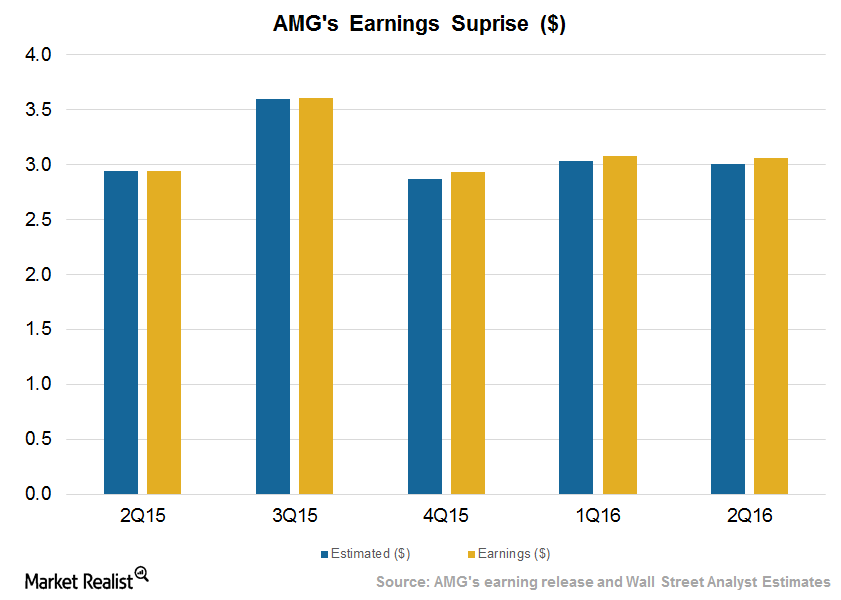 AMG Generated Solid Results in 2Q despite Market Volatility
By Robert Karr

Dec. 4 2020, Updated 10:53 a.m. ET
Beating estimates
On August 1, Affiliated Managers Group (AMG) reported net 2Q16 profits of $107.4 million—compared to $128.7 million for 2Q15. The company reported economic earnings per share of $3.06. It beat Wall Street analysts' estimates by $0.05—compared to $3.08 in 2Q15. Now, Affiliated Managers Group is managing $700 billion. Its net cash flows for the quarter were $0.6 billion.
Article continues below advertisement
Challenging markets
In the company's earnings call on August 1, Sean M. Healey, AMG's chair and CEO, stated that "Despite elevated market volatility, AMG generated solid results in the second quarter, including a year-over-year increase of 8% in our pro forma AUM, which is now approximately $700 billion. In a quarter marked by macro uncertainty, our results reflect the quality of our Affiliates and their strong relative investment performance, as well as the ongoing success of our strategy to partner with the highest-quality boutiques worldwide, including the addition of Capula Investment Management and Winton Capital Group."
Affiliated Managers Group reported revenues of $2.5 billion in the last fiscal year. In comparison, its competitors reported the following revenues:
BlackRock (BLK) – $11.1 billion
T. Rowe Price (TROW) – $4 billion
Bank of New York Mellon (BK) – $3.2 billion
Together, these companies form 2.8% of the Vanguard Financials ETF (VFH).
Asset management company
Affiliated Managers Group is a global asset management company that invests in boutique investment management firms called "affiliates." The performance of the affiliates drives Affiliated Managers Group's own performance. The company acts as a fund of funds for these entities.
It also assists its affiliates in strategic matters, marketing, distribution, product development, and operations. Affiliated Managers Group holds an equity stake in its affiliates along with the independent management. The latter is responsible for deploying funds and generating returns. The affiliates are identified based on their growth potential with products focusing on global equities, emerging market equities, and alternatives. Affiliated Managers Group manages three distribution channels through its affiliates:
institutional
mutual funds
high net worth individuals
In the following parts of the series, we'll study Affiliated Mangers Group's new affiliates, assets under management, performance of affiliates, dividends, outlook, and valuations.