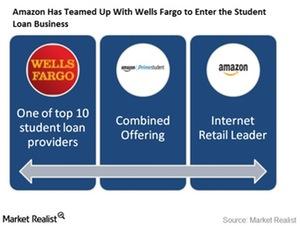 Amazon Has Teamed Up with Wells Fargo in Student Loan Business
By Surbhi Jain

Updated
Wells Fargo is an established student loan provider
Wells Fargo (WFC) is among the top ten student loan providers in the United States (SPY). It had more than $12 billion in outstanding student loans in 2015. The Federal government tops the list of student loan providers, followed by Sallie Mae (SLM), Nelnet (NNI), StudentLoan.com, Citizens Bank (CFG), Social Finance, CU Student Loans, and Wells Fargo.
Article continues below advertisement
Amazon is looking to enter the student loan market
Amazon (AMZN) is looking to enter what has become a billion-dollar student loan industry in the United States. It has entered into a deal with Wells Fargo to provide a 0.5% interest rate discount to its Prime Student subscribers on their Wells Fargo student loans.
The idea serves both
The Amazon–Wells Fargo deal could serve both companies. John Rasmussen, Wells Fargo's head of education financial services, said, "We are focused on innovation and meeting our customers where they are — and increasingly that is in the digital space." The deal also falls in line with Amazon's "track record of investing in great offerings for students."
Well Fargo will take the initiative further. It will offer the 0.5% discount to Student Prime members and an additional 0.25% interest rate reduction for borrowers who enroll in its automatic monthly repayment plan.
The discount may not seem as attractive by the numbers. However, it does seem like a lot when seen in the perspective of being offered at a time when students are struggling to repay their loans.
Many students have tapped out their annual Federal undergraduate debt limit of $5,500 for dependent freshmen. Now they're turning to the private sector for their educational loan requirements. The Amazon–Wells Fargo pact could thus bear fruit for both companies.