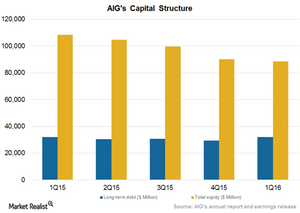 AIG's Balance Sheet Strong for Expansion and Returns in 2Q
By Robert Karr

Updated
AIG's balance sheet
American International Group (AIG) has continued its simplification process for its balance sheet over the past few quarters. The continued active winding down of the direct investment book and the substantial termination of the credit default swap, or CDS, in global capital markets eliminated the need for the company to separately report these results. The company's exposure to super senior corporate debt and collateralized loan obligations, CLOs, was reduced to zero, compared to $2.5 billion, as of December 31, 2014. These and other measures have led to AIG's five-year CDS rate falling to 60 basis points compared to 130 basis points in 2012.
Risk-based ratios
AIG, MetLife (MET), Allstate (ALL), and Chubb (CB) together form 1.0% of the Vanguard Dividend Appreciation ETF (VIG). These companies need to maintain capital in the form of liquid assets for payments of unexpected large claims. The capital requirement for an insurance company is stipulated by regulatory bodies. In the United States, insurers are required to maintain risk-based capital. Risk-based capital ratios are calculated as the ratio of capital available to an insurer to required capital. AIG is adequately capitalized with risk-based capital ratios of 490% for its life insurance subsidiaries and 440% for its non–life insurance subsidiaries.
Marginal rise in leverage
AIG's debt-to-total capital ratio increased marginally to 36.1% in the March quarter compared to 29.5% in the prior year's corresponding quarter. This was mainly due to an increase in debt and the buyback of shares. Its total outstanding debt at the end of 1Q16 was $31.6 billion, compared to $32.0 billion in 1Q15.
As of March 31, 2016, the weighted average coupon on AIG's financial debt stood at less than 5%, and the maturity profile improved significantly. AIG's book value, excluding other comprehensive income and deferred tax assets, declined to $78.28 in 1Q16. That compares to $80.20 in the corresponding quarter last year.
The company's leverage was on the lower side of the target range, according to AIG's management. AIG's operating return on equity stood at -0.8% for the first quarter of 2016. Its normalized return on equity was 8.9%.
Article continues below advertisement