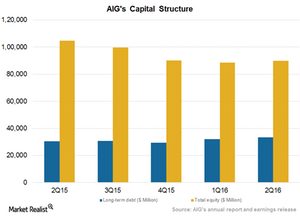 AIG Sees Importance of Targeting How Its Capital Is Structured
By Robert Karr

Aug. 29 2016, Updated 8:04 a.m. ET
Lower exposure of structured instruments
In 2016, American International Group (AIG) has continued to focus on strengthening its balance sheet. The company's exposure to super senior corporate debt and CLOs (collateralized loan obligations) was reduced to zero compared to $2.5 billion on December 31, 2014.
These and other measures have led to AIG's five-year CDS (credit default swaps) rate falling to 60 basis points compared to 130 basis points in 2012. The company has improved its capital structure by targeting lower leverage.
AIG is not planning any additional debt, at least for the next year, which could result in improved capital structure.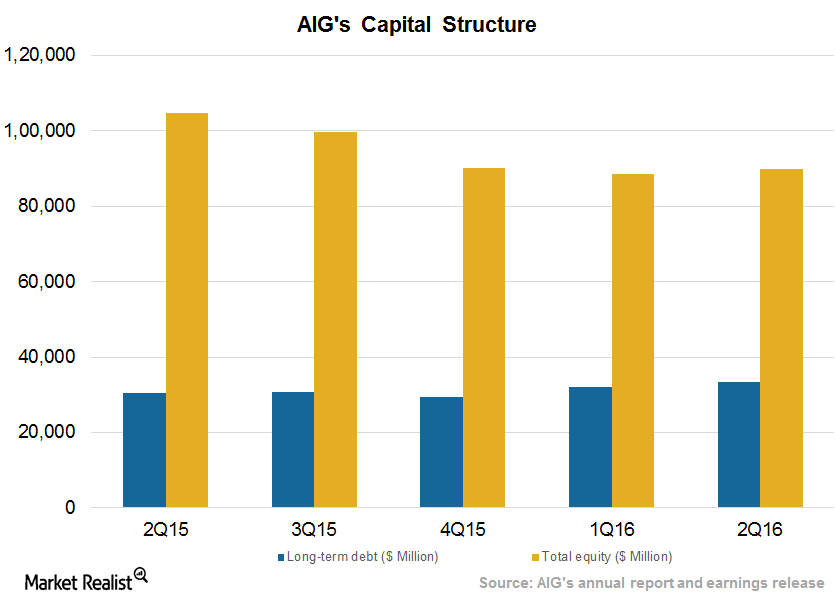 On June 30, 2016, the weighted average coupon on AIG's financial debt stood at less than 5%, and the maturity profile improved significantly. AIG's book value, excluding other comprehensive income and deferred tax assets, declined to $83.08 in 1Q16 compared to $78.28 in 2Q15.
Moderate leverage
AIG's debt-to-total-capital ratio increased to 37% in 2Q16 compared to 29% in 2Q15. This was mainly due to an increase in debt and the buyback of shares. Its total outstanding debt at the end of 2Q16 was $33.3 billion, up from $30.3 billion in 2Q15.
The company's leverage was on the lower side of the target range, according to AIG's management. AIG's operating ROE (return on equity) stood at 8.6% for the second quarter of 2016, whereas its normalized return on equity was 8.8%.
Liquidity strength
AIG, MetLife (MET), Allstate (ALL), and Chubb (CB) make up 1.0% of the Vanguard Dividend Appreciation ETF (VIG). These companies need to maintain capital in the form of liquid assets for payments of unexpected large claims. The capital requirement for an insurance company is set by regulatory bodies.
In the United States, insurers are required to maintain risk-based capital. Risk-based capital ratio is calculated as the ratio of capital available to an insurer to required capital. AIG is adequately capitalized with a risk-based capital ratio of 490% for its life-insurance subsidiaries and 440% for its non-life-insurance subsidiaries.
Article continues below advertisement