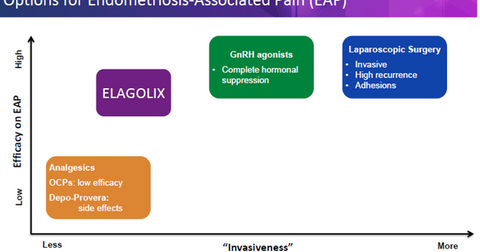 AbbVie Expects Investigational Drug Elagolix to Be a Blockbuster
By Margaret Patrick

Aug. 26 2016, Updated 9:04 a.m. ET
Market opportunity for Elagolix
Due to significant unmet demand and limited competition in the women's health segment, AbbVie (ABBV) expects its investigational drug Elagolix to become a blockbuster therapy. Elagolix is being codeveloped by AbbVie and Neurocrine Biosciences (NBIX), and it aims to manage conditions such as endometriosis and uterine fibroids.
The drug will enable AbbVie to compete with other women's health players such as Takeda Pharmaceutical (TKPYY) and Teva Pharmaceutical (TEVA). To know more about Elagolix, read Will Elagolix Make Neurocrine Biosciences a Key Women's Health Name?
Article continues below advertisement
According to AbbVie's R&D (research and development) Day transcript, "Endometriosis is actually when the normal lining or endometrial of uterus actually is found outside of the uterus. This tissue is responsive to estrogen and therefore with monthly cycles, you can have the growth of this tissue as well as inflammation outside of the uterus, which results immaturely pain associated with menses or dysmenorrhea."
The transcript continues, "Endometriosis can also be associated with chronic non-menstrual pelvic pain and about 50% of infertility in women is actually associated with endometriosis."
With 6%–10% of women worldwide—around 176 million—suffering from endometriosis, there's a significant market opportunity for Elagolix.
Limited competition
The above graph depicts the available treatment options for endometriosis. The x–axis shows how invasive the therapy is, while the y-axis indicates the efficacy of the therapy in controlling pain related to endometriosis.
We can see that analgesics and oral contraceptives are minimally invasive but are also less effective in managing non-menstrual pelvic pain. Contraceptive method Depo-Provera also has many side effects such as bleeding and mood changes.
While gonadotropin-releasing hormone agonists, which mainly constitute Lupron injections in the United States, display high efficacy, they're also a more invasive form of therapy for endometriosis-related pain. AbbVie explains Lupron's functioning as "associated with complete hormone suppression, effectively an overdrive system of the hormonal access."
Laproscopy ranks the highest on the invasiveness scale and also results in side effects such as adhesions and high recurrence rates. Adhesions can lead to further pelvic pain.
Elagolix has a significant growth opportunity, as it could prove to be effective while also minimally invasive. This could boost AbbVie's share price as well as the price of the VanEck Vectors Pharmaceutical ETF (PPH). AbbVie makes up about 5.4% of PPH's total holdings.