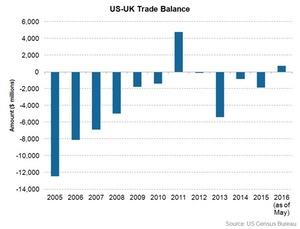 Will the UK Continue to Be a Tax Haven for Businesses?
By Surbhi Jain

Updated
US multinationals benefit from reduced corporate taxes
The United Kingdom has long served as a tax haven for multinational corporations. Over time, we've seen big names such as Aon (AON), CNH Industrial (CNHI), Delphi Automotive (DLPH), Ensco (ESV), Liberty Global (LBTYA), and Noble Corporation (NE) establish their tax bases in the area. Read Why the United Kingdom Is an Attractive Tax Destination for Some US Companies to know more.
Until a new trade agreement is reached between the United Kingdom and the European Union (or EU), businesses could continue to benefit from the low corporate tax rate and additional reliefs available in the United Kingdom.
Article continues below advertisement
Most US (SPY) (QQQ) multinationals have businesses in the United Kingdom. Quite a few of them have their EMEA (Europe, the Middle East, and Africa) headquarters in London. A few examples are Google (GOOG), Microsoft (MSFT), The Walt Disney Company (DIS), Goldman Sachs (GS), Morgan Stanley (MS), Marriott (MAR), McDonald's (MCD), Hilton (HLT), The Coca-Cola Company (KO), and The Gap (GPS).
Will these multinationals now be subject to withholding taxes?
Upon Brexit, however, these companies will become subject to withholding taxes on transactions between the EU and the United Kingdom, as the EU's Parent-Subsidiary and Interest and Royalty directives will no longer be applicable to companies in the United Kingdom.
Dividends, royalties and interest repatriated from the United Kingdom to other EU countries, which have been exempt from any withholding taxes under these directives, will now be taxed.
For multinationals with UK headquarters, the United Kingdom may choose to implement a corporate tax rate below 15% or to introduce further incentives upon exiting the EU. This may make the region a more attractive investment destination. For American companies, it would serve to lower their corporate tax rates.
The United Kingdom will likely remain a haven for foreign direct investment flows, even when outside the European Union. Of course, we may see a period of weak foreign direct investment inflows as the United Kingdom's new relationship is renegotiated. However, if the nation is able to obtain favorable terms, foreign direct investment can probably regain this lost ground.
Another question that companies operating in or with the area face is this: Will Brexit require multinationals operating in the area to undergo business restructuring?