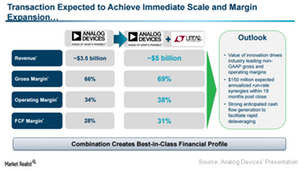 How Linear Technology Will Impact ADI's Margins
By Puja Tayal

Jul. 29 2016, Updated 9:07 a.m. ET
Why did ADI pay a strong premium for Linear Technology?
In the previous part of this series, we saw that Analog Devices (ADI) made an attractive offer that brought strong returns to Linear Technology's (LLTC) shareholders. What is surprising is Analog Devices, which acquired LLTC for 19 times its trailing 12-month EBITDA.[1. earnings before interest, tax, depreciation, and amortization] ADI backed out from acquiring Maxim Integrated (MXIM) as the latter demanded a higher price,
Why did ADI agree to pay LLTC such a high premium?
Article continues below advertisement
Gross margin
In fiscal 2015, Linear Technology had a gross margin of 76% while ADI had a gross margin of 66%. By integrating Linear Technology, ADI can optimize its factory utilization and improve its margins.
This would improve the combined company's gross margin to 69%. The combined entity's gross margin would be better than rival Texas Instruments's (TXN) gross margin of 58%.
Operating margin
Both Linear and ADI spend around 19%–20% of their revenue on R&D (research and development). The acquisition is expected to bring cost synergies of $150 million within 18 months from the close of the transactions due to the overlap in products and customers.
In fiscal 2015, Linear had an operating margin of 46% while ADI had an operating margin of 30%. The cost synergies would improve the combined company's operating margin to 38%, which would be higher than Texas Instruments' operating margin of ~33%.
Free cash flow
Linear Technology's high margins also result in higher cash flows. In fiscal 2015, Linear's FCF (free cash flow) was 36% of the revenue, whereas ADI's FCF was 28% of the revenue. The combination of the two companies would improve profit margins in turn, improving the combined company's FCF to 31% of the revenue.
ADI revised its guidance for fiscal 3Q16 as the acquisition would be immediately accretive to its non-GAAP[2. generally accepted accounting principles] EPS (earnings per share) and FCF. We will look into this in the next part of the series.