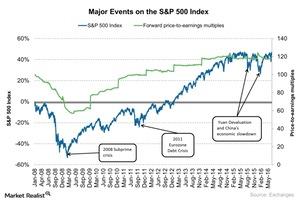 When Sentiment Drives Valuations, Should You Use the 3-Day Rule?
By Sarah Sands

Jul. 20 2016, Updated 11:12 a.m. ET
Sentiment toward the S&P 500 Index and its major events
Sentiment drives equity valuation. After major events such as the economic slowdown in China (FXI) (YINN), the devaluation of the Chinese yuan (CYB) in August 2015, increasing global deflationary pressures, and the United Kingdom's (EWU) recent vote to exit the European Union (IEV) (VGK), investors' confidence has been shaken.
The S&P 500 Index (SPY) is currently trading near its historic peak valuations. The index saw a high of 2,130.8 on May 21, 2015. As of July 13, 2016, it was trading at 2,152. Now, the index is making new 2016 highs.
Article continues below advertisement
After the yuan's devaluation in August 2015, the S&P 500 Index (SPXL) fell by 8% in three days. Though the Market recovered slightly, downward pressure continued on the index. After the announcement of the Brexit vote results on June 24, 2016, global markets showed a huge sell-offs for two days, but they immediately recovered.
PIMCO's three-day rule
The Pacific Investment Management Company (or PIMCO) is an American multinational investment management company. It has a three-day rule, which states that after a major market event, if the index shows a huge movement either in uptick or downtick within three days, then the company does not take up any positions. According to the rule, after three days of movement within the Market, trends will have cleared.