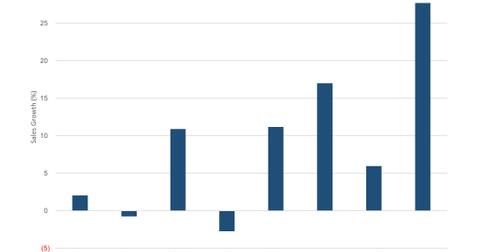 VF Corporation Sees Its Profits Deteriorate in 2Q16
By Sonya Bells

Updated
VF Corporation's 2Q16 highlights
Revenue fell by 2.7% YoY (year-over-year) to $2.5 billion.
Revenue from continuing operations rose by 1%.
Operating income on a reported basis was down by 3% YoY to $211 million.
Operating margin on a reported basis fell by 40 basis points to 8.6%.
Diluted earnings per share (or EPS) fell by 12.5% YoY to $0.35.
Article continues below advertisement
Revenue drivers
VF Corporation (VFC) reported a 1% YoY rise in revenue from its continued operations in 2Q16. This improvement was driven by higher revenues from the company's outdoor and action sports, jeanswear, and imagewear segments.
Higher sales were driven by improvements in direct-to-consumer sales and international businesses. While the company's outdoor and action sports revenue rose by 2% between 2Q15 and 2Q16, its jeanswear and imagewear revenues rose by 3% each.
Sales, however, fell by 2.7% after the inclusion of the company's discontinued operations. VFC's performance is among the worst in its apparel peer group. In comparison, Nike (NKE), Lululemon Athletica (LULU), and Under Armour (UA) reported 6%, 17%, and 28% growths in sales, respectively, in their last reported quarters.
Profitability and margins in 2Q16
VFC's gross margin improved slightly in 2Q16 to 48.1% on a reported basis as gains from lower product costs, pricing, and mix were washed away by changes in foreign currency and inventory management. VFC's operating income fell by 3% YoY on a reported basis to $211 million in 2Q16. Its operating margin fell by 40 basis points to 8.6% on a reported basis.
VFC's EPS fell by 12.5% to $0.35 in 2Q16, as its earnings were negatively impacted by $0.01 per share worth of net discrete taxes in 2Q16. Its 2Q15 earnings benefited by about $0.05 per share from net discrete taxes. Excluding the negative impact of foreign currency, the company's EPS fall was about 6%.
Investors who want exposure to VFC can consider the iShares Morningstar Large-Cap Growth ETF (JKE), which invests 0.40% of its portfolio in VFC.