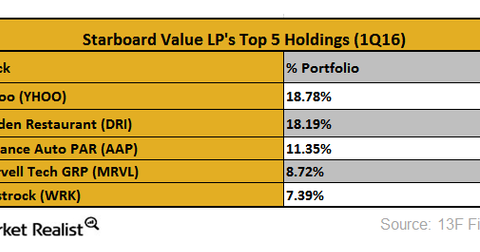 Does the Verizon–Yahoo Deal Accomplish Jeffrey Smith's Plan?
By Sarah Sands

Jul. 29 2016, Published 11:53 a.m. ET
Verizon-Yahoo deal
On Monday, July 25, 2016, Verizon Communications (VZ) announced that it will acquire Yahoo's operating business for $4.8 billion in cash. It will be a significant move for Verizon as it wants to spread its digital operation business and increase its potential on the Web.
Yahoo (YHOO) CEO Marissa Mayer said that Verizon recognizes the tremendous value in Yahoo. Many analysts believe this deal could lead to the end of Yahoo as an operating company. In February 2008, Yahoo rejected Microsoft's (MSFT) offer to buy the company for $31 per share. It was offering a 61% premium at that time. In January 2014, it again rejected an offer from Microsoft of $52 per share ($53 billion). It was offering a 30% premium at the time.
Article continues below advertisement
Jeffrey Smith's stance on the deal
Jeffrey Smith, an activist hedge fund manager and CEO of Starboard Value, believes the deal will be helpful for Yahoo to build further distribution channels in the market (SPY). Verizon's acquisition of Yahoo's operating business achieves Jeffrey Smith's plan.
Jeffrey Smith faces the same fate that Carl Icahn faced with Yahoo in 2008. In 2008, when Yahoo rejected Microsoft's proposal, Carl Icahn off-loaded his Yahoo stake. Both the shareholders took position in Yahoo in 2008 with expectations of big profit, but they got dismissal return on Yahoo shares. In 2014, Jeffrey Smith had predicted that Yahoo would be taken over by AOL. However, Verizon took over AOL in May 2015, and it declared this week that it will acquire Yahoo for $4.8 billion.
Yahoo was trading around $40 in September 2014 when Jeffrey Smith started his campaign. He took a large position in Yahoo in September 2014. When Smith explained the Yahoo-AOL merger equation, Yahoo's CEO and board took a different path to dilute a 15% stake in Alibaba Group Holding (BABA) in early 2015. However, the plan was canceled due to a fall in revenue.
Now Yahoo stock is trading at $38.52. This indicates that Jeffrey Smith got everything that he was expecting for Yahoo's deal except a huge profit.
In the next part of this series, we'll analyze the reason behind Buffett's interest in Verizon.