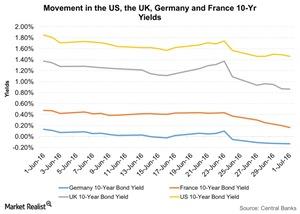 Why US Treasuries Are All the Rage Right Now
By Lynn Noah

Dec. 4 2020, Updated 10:53 a.m. ET
US Treasuries
After the UK's stunning decision to leave the European Union (or EU) on June 24, there's fear in the minds of investors around the world that Brexit could trigger a global slowdown. Thus, investors are flocking to safe-haven assets such as Treasuries (DRGBX) (TLT) and gold (IAU). This is leading to falling yields around the globe.
Article continues below advertisement
The majority of buying is coming from Europe
According to Andrew Brenner, the head of international fixed income at National Alliance, "This is buying coming from Europe. This is all about flight to quality, flight to quality in duration." He further stated, "It was absolutely panic buying. Panic buying shows up more as a panic when you're at one of the more illiquid days of the year when you're at a skeleton staff which is what you are today."
The yield on the US Treasury 30-year bond touched an all-time low of 2.2% on July 1, and the ten-year dipped below its closing high of 1.4%, although only temporarily. However, Bank of America Merrill Lynch said the yield was the lowest since the 1950s, according to Reuters.
The UK two-year Treasury sovereign yield turned negative for a while, and the ten-year gilt yield briefly touched a low of 0.77% after falling below 1% for the first time after the Brexit vote. Even the German bunds went deeper into negative territory on July 1.
In the next article, we'll see why policymakers think that the rate hike may not come soon.