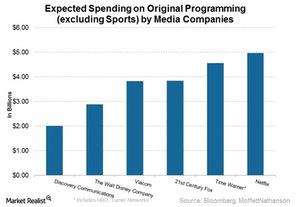 Time Warner's HBO Now Had Streaming Outage during Game of Thrones
By Shirley Pelts

Jul. 5 2016, Updated 4:06 a.m. ET
HBO Now faces streaming outages
Service outages during video streaming are becoming increasingly common as viewing content online becomes popular. According to a FierceCable report, Time Warner's (TWX) HBO Now had a streaming service outage during the streaming of its popular show Game of Thrones.
The FierceCable report also stated that HBO didn't acknowledge the problem until 43 minutes into the Game of Thrones episode. However, users streaming the show on Dish Network's (DISH) Sling TV and HBO Go didn't have any streaming issues.
Dish Network's Sling TV also faced this problem during its March Madness month this year. As HBO Now gears up to compete with other streaming services such as Netflix (NFLX), it will have to be careful that these streaming issues don't cause it to lose subscribers.
Article continues below advertisement
How HBO Now is gearing up to compete with Netflix
Time Warner expects the revenue contribution from HBO Now to the company's total subscription revenues to increase in fiscal 2016. Time Warner stated earlier this year that HBO Now was close to 1 million subscribers. At the end of 2015, it had 800,000 subscribers.
HBO Now is also focusing on ramping up its original programming to 600 hours per year.
According to a BloombergBusiness report citing data from MoffettNathanson, and as the above graph shows, Netflix is expected to spend around $5 billion on original programming. Time Warner is expected to spend $4.6 billion on original programming. In contrast, Discovery Communications (DISCA) and The Walt Disney Company (DIS) are expecting to spend less on original programming, about $2 billion and $2.8 billion, respectively.
Time Warner makes up 0.31% of the SPDR S&P 500 ETF (SPY). SPY has an exposure of 3.4% to the computers sector.