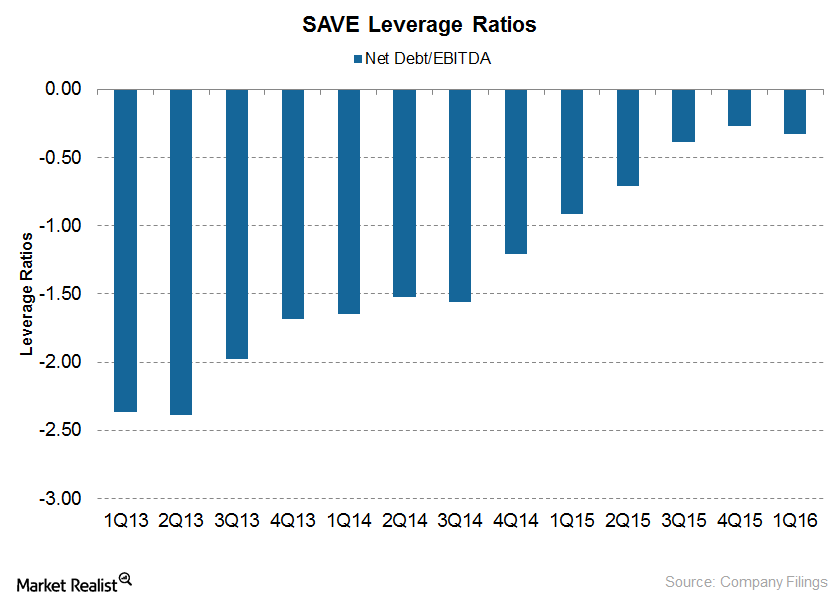 Spirit Airlines's Low Debt: More than Meets the Eye
By Ally Schmidt

Jul. 20 2016, Updated 1:06 p.m. ET
High debt
Spirit Airlines (SAVE) had negligible or no debt on its balance sheet until 4Q14. At this time of record profitability for airlines, where most airlines have tried to strengthen their balance sheet by reducing debt, Spirit Airlines has increased its debt.
As a result of increasing debt, Spirit Airlines's debt-to-EBITDA[1. earnings before interest, tax, depreciation, and amortization] ratio has increased from 0.72x at the start of 2015 to ~1.2x at the end of 1Q16. However, it still has more cash than debt on its balance sheet, resulting in a negative net debt-to-EBITDA ratio of -0.33x at the end of 1Q16. This is still lower than most of its peers.
Article continues below advertisement
Net debt-to-EBITDA ratio
At the end of 1Q16, the major airlines had the following net debt-to-EBITDA ratio:
However, a deeper analysis shows that Spirit's leverage is not as low as shown by the net debt-to-EBITDA ratio. Airlines often make use of operating leases for their most expensive purchase—aircraft. Operating lease is an off-balance sheet financing transaction where an asset is leased for a period less than its economic life without any transfer of ownership.
Spirit Airlines's ratio of net debt plus operating leases to EBITDAR[2. earnings before interest, taxes, depreciation, amortization, and restructuring or rent costs] at the end of fiscal 2015 was 1.8x. This number is higher than other low-cost carriers JetBlue Airways (JBLU), Southwest Airlines (LUV), and Allegiant Travel (ALGT), which were 1.3x, 0.8x, and 0.7x, respectively. However, it is lower than American Airlines (AAL) and United Continental (UAL) at 3.4x and 3.1x, respectively.
Outlook
Although SAVE's leverage is currently not a concern, it is still important for investors to track SAVE's leverage. This also becomes increasingly important as Spirit plans to purchase more planes versus leasing them. As these purchases will be financed through debt, SAVE's leverage will rise further.
On the other hand, if SAVE is able to maintain this balance between debt and cash, it would put SAVE in a much better position than its peers with significant debt.
The iShares Morningstar Small-Cap ETF (JKJ) holds 0.65% in SAVE.