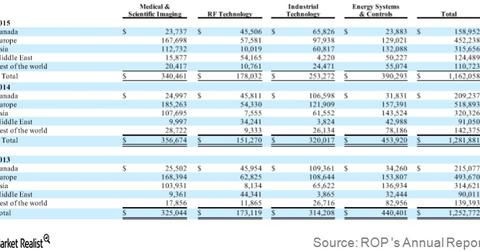 Roper Technologies' Crucial Regional Spread and Distribution
By Jessica Stephans

Updated
Sales and regional presence
In 2015, Canada, Europe, the Asia-Pacific region, the Middle East, and the rest of the world contributed 14%, 39%, 27%, 11%, and 10%, respectively, to Roper Technologies' (ROP) export revenue of $1.1 billion.
Roper Technologies' export sales excluding the United States in 2013, 2014, and 2015 stood at $1.3 billion, $1.3 billion, and $1.2 billion, respectively. Export sales made up 39.1%, 36.0%, and 32.4% of the company's total revenues in 2013, 2014, and 2015, respectively.
North America is a key market for many diversified players, including General Electric (GE), Honeywell Industries (HON), and 3M Company (MMM). General Electric, Honeywell Industries, and 3M derive 45.4%, 61.6%, and 39.8% of their revenues, respectively, from North America.
Article continues below advertisement
Distribution and sales
Direct sales offices, manufacturers' representatives and distributors, and value-added resellers are the usual sales mediums for ROP. Original equipment manufacturers are also a means of making sales.
On a year-over-year basis as of June 10, 2016, ROP fell by 2.1%, and the SPDR S&P 500 ETF (SPY) rose marginally by 0.3%. Year-to-date as of June 10, ROP had risen by ~7.6% compared to SPY's 4.8%.
Now it's time to examine Roper Technologies' Medical and Scientific Imaging Segment.