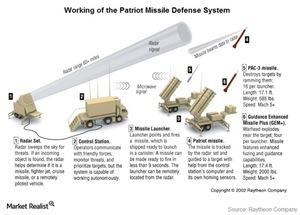 Raytheon Still Hopeful about Its German Patriot Deal
By Shannon Black

Jul. 21 2016, Published 11:21 a.m. ET
Raytheon sees bright prospects for AESA radars
The US government gave a green light to Raytheon (RTN) in 2015 to export its 360-degree Gallium Nitride (or GaN) Active Electronically Scanned Array (or AESA) radar to 13 partner countries. The company officially debuted in March 2016. Without getting into the details, the company said that all 13 countries have expressed interest in the equipment.
The new radar gives a 360-degree view of potential threats. It's more reliable and lowers operating and maintenance costs. Raytheon's competitor Northrop Grumman (NOC) is a pioneer in AESA radar. Its equipment is used to enable F-35 pilots to effectively engage air and ground targets at a long range.
Article continues below advertisement
Raytheon eyes lost Patriot deal
In June 2015, the German government selected Lockheed Martin's (LMT) MEADS (Medium Extended Air Defense System) missile system over Raytheon's Patriot missile system. It said Lockheed Martin's life-cycle cost was 67% lower.
The MEADS and Patriot systems are both used to intercept and neutralize ballistic missiles. In the face of crippling defense (XAR) budgets, lower manpower requirements of MEADS was considered attractive. However, more recently, questions have been raised on whether MEADS can meet Germany's performance milestones.
The German defense (ITA) ministry notified its lawmakers that negotiations with Lockheed may extend beyond 2016. Raytheon is now in discussions with Germany to resubmit the bid for the Patriot missile system, should the MEADS system fail to meet its mandated milestones.
On July 11, 2016, Wesley Kremer, president of Raytheon's integrated defense business, stated that the Patriot offers Germany a more reliable and efficient system. He added that meeting Germany's checkpoints could be challenging for MEADS.