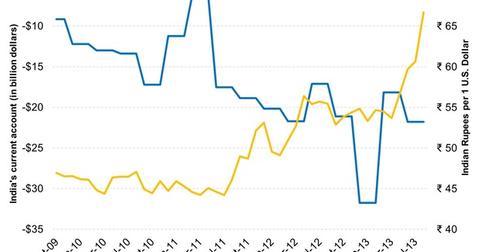 India: Once One of the Fragile Five, Now One of the Bright Spots
By Heidi Richardson

Updated
Once a BRIC, then one of the "Fragile Five," is India regaining its luster? Heidi discusses the case for India.
India has long tantalized investors, with enormous potential stemming from a large population, growing middle class, and global, world class companies. But India went from being a key member of the leading emerging market "BRICs" (Brazil, Russia, India and China) to a less august club, the so-called "Fragile Five."
However, India is beginning to restore some of its luster. A significant catalyst has been low energy prices: As India imports nearly 75% of its oil (source: Central Statistical Office, India), sustained low crude prices over the past two years have been a tailwind for the Indian economy.
Article continues below advertisement
Market Realist – A deteriorating current account position led to a weak rupee in 2013.
Fragile Five is a term coined in August 2013 by an analyst at Morgan Stanley. It represented emerging market economies that had become too dependent on foreign investments to finance their current account deficits. The Fragile Five included India, Brazil (EWZ), Turkey, South Africa, and Indonesia.
As you can see from the graph above, India's current account started deteriorating in 2011, which led to a deterioration in the Indian rupee. This coincided with the so-called taper tantrum in the United States when the Fed was contemplating its QE (quantitative easing) program. This caused rates in the United States to rise, consequently attracting more funds from abroad. And investors started withdrawing funds from emerging markets (EEM).
India (EPI) (INDA) was in a vulnerable position at that point. Higher oil and gold (IAU) prices, which make up a big chunk of its imports, didn't help India's current account position. This was a drag on the Indian economy, and a weaker currency and higher oil prices caused inflation rates to rise.
However, the Indian economy has recovered since then. In the rest of this series, we'll see why Indian stocks could continue to shine.