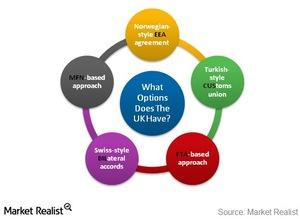 Maintaining EU-UK Trade Relations: What Choices Does the UK Have?
By Surbhi Jain

Updated
EU-UK trade relations: What lies ahead?
Chances are high that a favorable trade agreement will be reached between the United Kingdom and the European Union (or EU) after Brexit, as there are advantages for both sides in continuing a close commercial arrangement. Not only is the EU important to the United Kingdom's (EWU) trade position, UK markets are important to the rest of the EU.
The scale of trade interdependence is quite evident. The UK commands a solid 18% of EU exports, while 50% of UK exports are destined for the EU (VGK) (EZU) (HEDJ) (FEZ). 90% of EU-UK trade is goods-dominated.
This interdependence translates to the necessity for the United Kingdom to have a trade agreement in place with the EU after it loses its access to the single market. The chart above highlights the various options that the UK has at hand to re-establish its trade relations with the EU.
Article continues below advertisement
EEA or FTA: What will the United Kingdom choose?
The United Kingdom could choose to remain part of the single market by becoming a member of the European Economic Area (or EEA). Norway, Iceland, and Liechtenstein are among the countries that are outside the EU but inside the European Economic Area. However, the Norwegian option has been widely shunned by the Leave campaign, so it doesn't seem likely to be adopted.
There is also the FTA-based (Free Trade Association) approach. Countries such as Switzerland are members of the European FTA but not the EEA. These countries have established free-trade relations with the EU and access to the single market through a series of bilateral agreements. However, entering into new FTAs may not be advantageous to the United Kingdom alone without the EU's backing. It would be a lengthier and more costly process, taking about four to ten years.
Note that on Brexit, the current 36 FTAs of the European Union, which cover 53 non-EU countries, would also no longer be accessible to the United Kingdom. Thus, the United Kingdom may also need to negotiate similar trade agreements with certain non-EU countries.
We've looked into the trade and tax impacts that Brexit could have on UK businesses and your investments in them. Let's now take a look at the economic and market (SPY) (IWM) (QQQ) impacts that the Brexit could have on the United Kingdom's future.