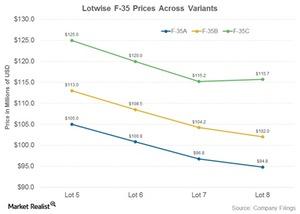 Lockheed Martin's Deal with the Pentagon for 160 F-35 Aircraft
By Shannon Black

Jul. 18 2016, Updated 9:07 a.m. ET
Lockheed Martin's most prized business: the F-35
Lockheed Martin's (LMT) Aeronautics (XAR) business segment accounted for $15.6 billion, or 34%, of consolidated net sales in 2015. Within the Aeronautics (PPA) segment, the F-35 Lightning Joint Strike Fighter constituted 59% of the segment's sales in 2015. The F-35 program represents the most expensive military weapons system in history with estimated lifetime costs pegged at approximately $1.1 trillion.
Article continues below advertisement
Lockheed Martin has been in talks with the Pentagon for several months to finalize negotiations for the ninth and tenth batches of F-35 fighter jets for a total value of approximately $16 billion. The deal is for 160 aircraft during two years of F-35 production, and the company is slated to deliver the first of these fighters by September this year.
Negotiation for the ninth and tenth batches enters final stages
On July 7, the company published a press release stating that it's now in the final stages of negotiation and that it's confident of being in contract soon. Negotiations have been delayed due to the complexities involved in estimating the cost of future jets. Marillyn Hewson, the CEO of Lockheed Martin, gave an interview to CNBC (CMCSA) on July 11 in the backdrop of the Farnborough International Airshow. She stated that unit costs have fallen 57% since the company built its first F-35 and that the company is on path to reduce costs to $85 million per jet for the cheapest variant by 2019.
In its last agreement for the eighth batch, the least expensive variant of F-35, known as the F-35A, came at a price of $94.8 million. The F-35B came at a price of $102 million, and the most expensive variant, known as the F-35C, had a price tag of $115.7 million. This excludes the price of the F135 engine, which the Pentagon purchases from Pratt & Whitney (UTX) in a separate contract.
In the next article in this series, we'll discuss some key updates on Lockheed Martin's latest deals.