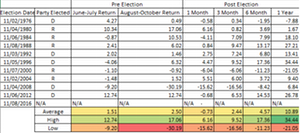 Should Investors Put Their Money to Work in the Face of an Unpredictable Election?
By JP Gravitt

Updated
Elections and markets
Whether investors believe it or not, presidential elections do influence markets (SPY) (DIA) (QQQ). The effects can be witnessed in many different ways, from increased market volatility to changes in fiscal policy. The 2016 presidential race has been especially unpredictable, with presumptive front-runners like Hillary Clinton and Jeb Bush being continually challenged by "long-shot" opponents like Bernie Sanders and Donald Trump, who ended up becoming the presumptive nominee.
This uncertainty has raised many questions, but perhaps most importantly: Should the upcoming election influence my investing strategy?
Article continues below advertisement
Historical returns dating back to the 1976 election paint an interesting picture. On average, the return of the S&P 500 has been 1.5% during June and July in presidential election years, rising another 2.5% from August through October. Statistically speaking, this would indicate that the current June and July return of -.5% is uncharacteristically low—and suggests that the S&P has an upside potential through the end of July and beyond.
The S&P, Democrats, and 2008
With the exception of the one-month and three-month periods following elections, S&P returns under Democratic presidents-elect have been historically higher. In any data set with a relatively small number of data points, anomalies have the potential to influence the underlying analysis dramatically.
The 2008 recessionary period is a perfect example of this. When the data following the 2008 election is removed from the data set, the returns under Democratic presidents outperform Republican candidates across the board by an average of 4.7%.
Macroeconomic factors and elections
Regardless of the outcome of the 2016 presidential election, macroeconomic factors will also move markets. In turn, the president-elect and the election itself play an important role in influencing those factors through economic policy.
Other factors that could play large roles during this election cycle include the following:
geopolitical events
commodity prices
currency swings
interest rate policy
overall economic cycle strength
Of course, market reactions during past election cycles can never tell you exactly what will happen during elections to come, but unbiased perusals of this kind of data suggest that this is perhaps not as risky a time to invest as some would suggest.