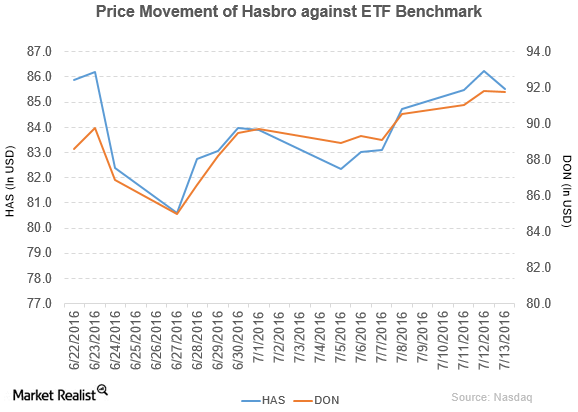 Hasbro Acquires Boulder Media to Deliver High Quality
Price movement
Hasbro (HAS) has a market cap of $10.5 billion. It fell by 0.82% to close at $85.54 per share on July 13, 2016. The stock's weekly, monthly, and year-to-date (or YTD) price movements were 3.1%, 0.56%, and 28.6%, respectively. HAS is trading 1.3% above its 20-day moving average, 0.37% above its 50-day moving average, and 11.0% above its 200-day moving average.
Article continues below advertisement
Related ETF and peers
The WisdomTree Mid-Cap Dividend ETF (DON) invests 0.65% of its holdings in Hasbro. The ETF tracks a dividend-weighted index of midcap stocks. The YTD price movement of DON was 15.2% on July 13.
The market caps of Hasbro's competitors are as follows:
Hasbro acquires Boulder Media Animation Studio
Hasbro has acquired Boulder Media, an Irish animation company. The terms of this transaction were not disclosed.
The company stated that "Boulder has produced a variety of award-winning series for Cartoon Network, Nickelodeon, Disney and BBC. As a wholly-owned subsidiary, Boulder will continue to produce animated series on behalf of third-party clients, in addition to producing animation projects for Hasbro's best-known brands."
Article continues below advertisement
Performance of Hasbro in fiscal 1Q16
Hasbro reported fiscal 1Q16 net revenues of $831.2 million, a rise of 16.5% over the net revenues of $713.5 million in fiscal 1Q15. Net revenues from the boys, girls, and preschool product categories rose by 23.6%, 41.2%, and 11.0%, respectively. Net revenues from the games category fell by 1.9% between fiscals 1Q15 and 1Q16. The company's cost of sales as a percentage of net revenues and operating profit rose by 0.58% and 58.5%, respectively
The company's net income and EPS (earnings per share) rose to $48.8 million and $0.38, respectively, in fiscal 1Q16, compared with $26.7 million and $0.21, respectively, in fiscal 1Q15. Hasbro's cash and cash equivalents and inventories rose by 1.3% and 35.5%, respectively, between fiscals 1Q15 and 1Q16. In fiscal 1Q16, its current ratio rose to 3.3x and its debt-to-equity ratio fell to 1.7x, compared with a current ratio and debt-to-equity ratio of 2.9x and 1.9x, respectively, in fiscal 1Q15.
Quarterly dividend
Hasbro has declared a quarterly cash dividend of $0.51 per share on its common stock. The dividend will be paid on August 15, 2016, to shareholders of record at the close of business on August 1, 2016. In the next part of this series, we'll discuss Berry Plastics.