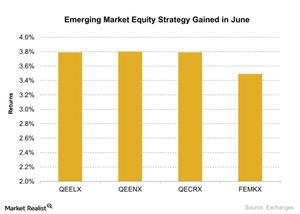 Which Fund Strategy Rose Steeply Despite Market Uncertainty?
By Sarah Sands

Updated
Volatility spiked in global markets
In June 2016, volatility spiked in global markets (VXUS) (VTI). Many fund strategies outperformed the global market with heightened market volatility. The emerging market fund strategy is one of them.
The Barclay Emerging Markets Hedge Fund Index returned 3.2% in June. The index returned 5.6% year-to-date (or YTD) as of June 30, 2016. The HFRX Emerging Markets Composite Index rose 1.7% in June. It returned 1.5% YTD as of June 30, 2016.
Article continues below advertisement
Various emerging market funds
The AQR Emerging Multi-Style I (QEELX), the AQR Emerging Multi-Style N (QEENX), and the AQR Emerging Multi-Style R6 (QECRX) all returned ~3.8% in June. YTD as of June 30, 2016, these funds returned 3.1%, 3.0%, and 3.1%, respectively.
The Fidelity Emerging Markets Fund (FEMKX) returned 3.5% in June. This shows that the emerging market strategy worked in June when there was a high volatility in the Market.
Fund managers' views on emerging markets
Emerging markets (EEM) (VWO) became a good choice for many portfolio managers and fund managers. Emerging markets have had a strong performance in recent months. Interest in emerging markets has come from both retail and institutional investors.
The valuations of emerging markets (EDC) look cheaper than developed markets (EFA). In the past months, we've seen money flow into emerging markets. After the Brexit vote on June 23, the impact was less in emerging markets than developed markets such as Europe (VGK), the United States (VFINX) (IWF), and Japan (EWJ).
In the next part of this series, we'll analyze the performance of the European equity index.