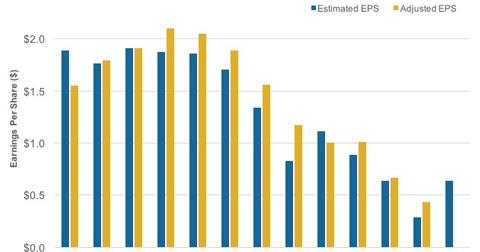 ExxonMobil's 2Q Earnings Expected to Outshine 1Q Results
By Maitali Ramkumar

Updated
1Q16 estimated and actual performance
ExxonMobil (XOM) is expected to post its 2Q16 results on July 29, 2016. Before we proceed with its 2Q16 estimates, let's recap ExxonMobil's 1Q16 performance compared to the estimates.
In 1Q16, ExxonMobil's revenues surpassed Wall Street estimates by 10%. The company's 1Q16 EPS (earnings per share) stood at $0.43—about 49% higher than the estimated EPS of $0.29. However, this was 63% lower than the 1Q15 adjusted EPS of $1.17.
ExxonMobil saw a decline in earnings from $4.9 billion in 1Q15 to $1.8 billion in 1Q16. This was due to a loss in its upstream segment. Its downstream segment saw a decline in earnings. This was partly offset by a rise in XOM's chemical segment's earnings.
Article continues below advertisement
ExxonMobil's 2Q16 earnings estimates
According to Wall Street analysts' estimates, ExxonMobil is expected to post an EPS of $0.64 in 2Q16—36% lower than 2Q15's adjusted EPS. However, it's higher than the 1Q16 adjusted EPS. ExxonMobil's revenues are estimated to be around $54 billion in 2Q16—27% lower than 2Q15 revenues.
In 2Q16, higher oil prices will likely improve the upstream earnings compared to 1Q16. Also, the downstream segment will likely witness better earnings due to widening refining cracks in 2Q16 over 1Q16.
However, on a yearly basis, earnings are expected to decline. ExxonMobil's peers BP (BP), Chevron (CVX), and Petrobras (PBR) are also expected to witness lower EPS in 2Q16 compared to 2Q15. The iShares Core High Dividend ETF (HDV) has ~20% exposure to energy sector stocks.