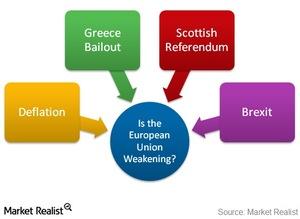 Could Exiting the EU Leave the UK on Stronger Footing?
By Surbhi Jain

Dec. 4 2020, Updated 10:53 a.m. ET
Opportunities
Contrary to popular opinion that the United Kingdom could face more losses than gains from its disassociation from the European Union (or EU), there are certain areas of opportunity that Brexit could bring to the United Kingdom.
The British government could save about 10 billion British pounds annually, which are currently used as contributions to the EU's budget. However, the following could offset much of this savings:
economic disruption caused changes in regulations on the tax and trade fronts
impacts on low-skill employment as a result of lower migration to the United Kingdom
contributions payable to the EU subsequent to a new trade deal or retention of its single-market access
Article continues below advertisement
Given the Europe's (VGK) (FEZ) (HEDJ) ongoing struggle with deflation and low demand, the region's importance in the global economy is diminishing. Geopolitical events such as Greece's (GREK) bailout, the Scottish referendum, and the UK (EWU) referendum have further tarnished the image of the monetary union as a single strong economic bloc.
Billionaire activist investor George Soros sees Brexit sparking disintegration in the EU. Fears of a contagion to other EU economies such as the Netherlands and France are already brewing within and beyond the region.
Thus, exiting a weak EU could lead the UK to stronger footing. After all, it's one of the strongest among the EU's member nations. The benefits of being in the EU are evidently smaller now.