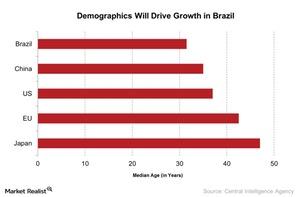 Brazil's Growth Story Could Hinge on Demographics
By Sarah Sands

Aug. 2 2016, Updated 9:06 a.m. ET
Brazil's growth story
In the early 1990s, Brazil's inflation was too high. Since then, the country has gone through huge changes. Now, political instability is causing more volatility in the economy.
Mark Mobius, the executive chairman of Templeton Emerging Markets Group, believes there are tremendous opportunities in Brazil (EWZ) (BRZU). It is one of his favorite nations among the emerging economies (EEM) (VWO) (EDC). He also believes that "a great time to invest is when there's been a lot of uncertainty."
Article continues below advertisement
Brazil's demographics
Demographics are important indicators that will drive growth in Brazil's economy. The country has a younger population than developed nations (EFA) and regions such as the US (QQQ), Japan (EWJ), and the Eurozone (VGK).
A younger population signals that consumer demand in its economy should improve in the near future. An aging population generally reflects a fall in demand, which hampers a country's economic growth. However, Brazil is witnessing a rise in the demand outlook, which should drive growth in the economy.
Shift in growth model
A fall in commodity prices affected most of the emerging nations. Some emerging nations are commodity exporters while others are commodity importers. Brazil is one of the world's largest commodity exporters.
Despite focusing more on exports, if Brazil focuses on domestic consumption, then the growth model could shift. The change in demographics should increase demand outlook in the economy. As the economy is shifting its focus from an industrial-based to a service-based economy, it should be an added advantage for Brazil.
If the domestic cycle improves in the economy and consumers become more selective toward the services they use, then it could drive growth in Brazil. The improvement in the domestic economy should improve the performance of various stocks such as Companhia Brasileira de Distribuicao-CBD (CBD), BRF S.A. (BRFS), and AmBev (ABEV).
For more information, please read Will the Reversal in Emerging Markets Provide Yields?