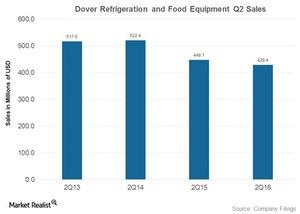 Dover's Food Equipment Sales Turn Sour, Drag Refrigeration Lower
By Shannon Black

Updated
Dover's refrigeration and food equipment segment in 2Q16
The refrigeration and food equipment segment was responsible for 25.5% of Dover's (DOV) total sales and 28.6% of the total segment profits in 2Q16. Sales in the quarter fell 4% to $429 million as the impact of currency translations and the sale of businesses in the previous year offset the organic revenue growth of 1%. Organic revenue was driven by solid gains in retail (RTH) refrigeration. Operating margins were flat year-over-year, at 14.7%.
Article continues below advertisement
Business-wise trends in organic sales
The Dover refrigeration business contributed 77% to the segment's 2Q16 revenue. The food equipment business made up the remaining 23%. Refrigeration sales fell 4% year-over-year, as the disposition of a business last year offset the organic gains of 2%. Organic growth was driven by a solid performance in the retail (PMR) refrigeration and display case businesses. Dover derives 2.7% and 0.25% of its annual revenues from Walmart (WMT) and Costco (COST), respectively, through refrigerator sales. Food equipment sales decreased 3% in the quarter, entirely due to organic declines within the unit. Within food (PBJ) equipment, strong growth in the can shaping and commercial foodservice businesses offset weakness in the food processing business.
Bookings and outlook
The second and third quarters are seasonally the best quarters for Dover's refrigeration and food equipment segment. The segment's high book-to-bill ratio of 1.09 in the second quarter is not surprising. The book-to-bill in retail refrigeration was particularly impressive, at 1.13 versus 1.06 in 2Q15. Bookings fell 4% to $469 million due to the disposition and currency. In organic terms, bookings were up 4%. Sales for the whole year are expected to be lower than expected as can shaping orders and shipments are expected to be deferred to next year.