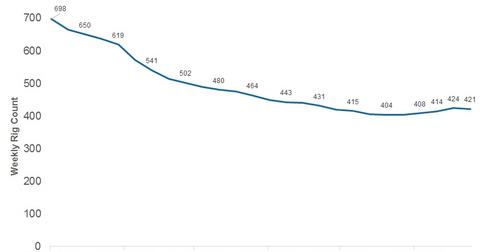 Dover Corp.: Will Its Energy Segment Misery End Earlier than Expected?
By Shannon Black

Updated
Key leading indicators of Dover Energy
Over 70% of Dover's (DOV) Energy segment is exposed to orders from upstream operations such as drilling and exploration in the oil and gas industry (VDE). Capital expenditures (capex) in the oil and gas industry constitute a key leading indicator of Dover's fortunes in the Energy segment.
Another key leading indicator is the weekly rig count data released by the Houston-based oilfield (USO) service company Baker Hughes (BHI),
Article continues below advertisement
Chevron
Among its major customers, Dover Corporation derives ~3.7% of its annual revenues from its business with Chevron (CVX), which had reduced its upstream capex by 16% in 2015.
Chevron's quarterly upstream capex in 1Q16 declined by a further 23% on a year-over-year basis, reflecting an industry-wide trend of a cutback in upstream operations.
Why rig counts could have bottomed out
The number of rigs have seen a precipitous fall of 39% from 698 in the first week of January 2016 to 421 on June 24, 2016. For comparisons, the rig count in October 2014 was 1609, and oil prices were at their peak at that time. So, the current levels are just 26% of the levels at the peak in October.
However, for the first time in 2016, rig count started increasing since the first week of June. The rig count in the last week of May was 404, and it increased for three consecutive weeks to 424 in the third week of June before registering another decline.
Article continues below advertisement
Decline in US oil production
The correlation between oil (USO) production and rig count is less straightforward, as technological advances have helped to increase drilling efficiency—and thereby production—without increasing the number of rigs.
However, production levels offer an important indicator for oil prices and in turn, the future capex plans of oil majors. US oil production has declined from 9.2 million barrels per day (or bpd) in the first week of January to 8.7 million bpd by the last week of June.
This decline has helped oil prices to stage a recovery. Given that production levels tend to lag rig count data, we could see a further decline in production. Therefore, oil prices could end up recovering faster than originally expected and guide companies to restore their capex levels by early 2017.