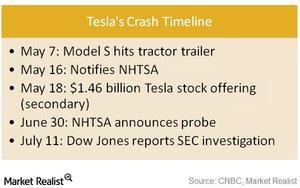 Understanding Damodaran's Execution Concerns with Tesla
By Surbhi Jain

Updated
Elon Musk is the allure of and danger to Tesla
Despite his optimism toward Tesla Motors (TSLA), valuations expert and NYU Stern School of Business professor Aswath Damodaran, who has a price target of $250 on the stock, is still resisting the urge to be too optimistic. What concerns Damodaran most is weak execution, which has become a core feature of the company. And so Damodaran is not entirely confident that Tesla can actually deliver the kind of value it promises to investors.
Article continues below advertisement
Elon Musk has helped build the Tesla story
In his interview with CNBC on Wednesday, June 13, Damodaran had only good things to say about Elon Musk, CEO of Tesla, and his company—with one exception: "Elon Musk is what has made the company what it is today. He's helped build up the Tesla story. However, he's also the biggest weakness of the company."
According to Damodaran, the only risk Tesla faces today is execution. And history attests to the fact that Musk has struggled with execution problems.
"A risk they didn't have to take"
This fact was underscored recently by the crash event that the company didn't disclose to the public before it raised $1.46 billion in a secondary offering. The SEC (Securities and Exchange Commission) is currently investigating the issue.
Popular opinion holds that the crash was material enough for investors to be informed before the secondary offering. But the former Chair of the SEC, Harvey Pitt, believes that the SEC's decision was harsh in requiring Tesla to give the proceeds of that secondary offering back to investors. According to Damodaran, "It was a risk that they didn't have to take."
But markets (IWF) (IWD) (IWM) have treated Tesla well, and so, as another argument goes, the company should have trusted the market and disclosed.
Meanwhile, Colin Langan of UBS (UBS) has identified other factors that could put Tesla's stock under pressure. Read the next and final part of this series for the discussion.