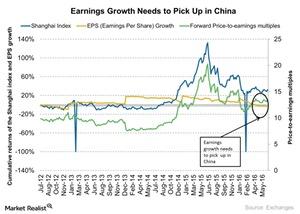 Why Does China's Earnings Growth Need to Improve?
China's performance in recent years
China is the world's second-largest economy. The transformation from a manufacturing hub to a consumption-based economy will drive growth.
In the recent years, the economic slowdown in China has weighed on investors' confidence. The iShares MSCI China ETF (MCHI), which tracks the performance of China (YINN) (FXI), had fallen 4.9% on a year-to-date basis, as of June 30, 2016. The ETF fell 20% between January 1, 2016, and February 11, 2016. During this period, all global (ACWI) (VTI) (VEU) indexes and commodity prices fell steeply due to weakness in China's economy.
Article continues below advertisement
Valuations of China's Shanghai index
China's Shanghai index (ASHR) returned 130% between June 2012 and June 2015. The future valuations also increased, by nearly 106%. However, EPS (earnings per share) growth did not improve during this period. This indicates that the rally in the market was artificial, driven by the stimulus provided in the economy. This artificially boosted asset prices.
The Shanghai index is currently trading at a forward price-to-earnings multiple of 13.5x, 33% lower than the high of 20.2x in June 2015. As the valuations contract from the highs, the improvement in its earnings growth will make China attractive among emerging nations (EEM) (VWO) (EDC). In the next part of this series, we'll discuss Mobius's views on Brazil.