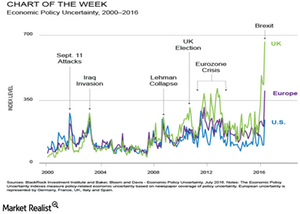 Changing Political Landscape in EU Has Heightened Global Uncertainty
By Richard Turnill

Jul. 18 2016, Updated 1:23 p.m. ET
Chief Investment Strategist Richard Turnill explains the economic landscape we now expect post-Brexit and how we have updated our asset views accordingly.
This week's chart helps explain why we've updated our asset views following the British vote to exit the European Union (EU). Political uncertainty has increased in the wake of the Brexit news, as the chart below shows, and we expect elevated uncertainty to continue for some time.
The U.K. prime-minister position is open, a Scottish independence referendum is possible and Brexit negotiation will likely take at least two years. The imminent risk of other EU exits is low, we believe, but key political votes occur in Italy, France and Germany over the next 15 months, and in the United States in November.
Article continues below advertisement
Market Realist – Political uncertainty in the EU has increased after Brexit results
The UK's decision to exit the European Union (EZU) has set the stage for prolonged political uncertainty in the region. Britain's (EWU) new prime minister will have to sail the country through long, tumultuous negotiations. It will take around two years for the United Kingdom to completely exit the EU. The long transition process and heightened uncertainty over Britain's economic and political relationships with the EU will damage investors' confidence and thus will result in a decline in trade and investment.
Changing political equations
The changing political equations in Europe could be the biggest factor influencing the future of the EU. Scotland, which overwhelmingly voted to stay in the EU, is favoring a second independence referendum. The ruling Scottish National Party has sounded its support for another referendum.
Article continues below advertisement
Regional elections
The other major threat comes from Italy where the anti-establishment Five Star Movement wants a referendum on leaving the EU. Earlier in June, the Five Star Movement dealt a blow to the ruling party by winning landslide victories in Rome's and Turin's mayoral elections. The next Italian general election due to be held in 2018 could pose a challenge to the reformist incumbent government.
In France, the next presidential election is scheduled to be held in April and May 2017. Far-right leader Marine Le Pen, who is the frontrunner to be the next French president, wants France to follow the UK's lead. In Germany (EWG), the next federal elections will be in 2017. A poll published in May shows that the majority of Germans are not eager to reelect Chancellor Angela Merkel.
Another exit may be unlikely
After Brexit results, there have been calls in other countries to have a British-style referendum in regards to staying in the European Union (IEV). Euroskeptic politicians in countries like Italy, France, Germany, Sweden, the Netherlands, Czech Republic, and Hungary are gaining ground and are demanding that their countries rethink their EU (IEUR) membership. However, the risks of other members exiting the EU at this stage seem low.