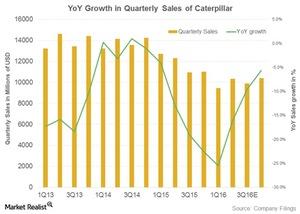 Why Caterpillar's Construction Equipment Sales Saw a Beat in 2Q16
By Shannon Black

Updated
Caterpillar's sales performance
Caterpillar's (CAT) revenue fell by 16.2%, or by $2 billion year-over-year, to $10.3 billion in 2Q16 compared to analysts' consensus estimates of $10.1 billion. Caterpillar is highly market share–focused and would generally choose to reduce prices in the face of losing customers.
However, in 2Q16, the impact of the loss in volume ($905 million) on its operating profit was approximately four times that of its negative price realization ($233 million). Therefore, the volume story on the decline in sales is considerably more significant compared to the market share gains achieved through price reductions.
The following list shows the decline in machinery sales year-over-year, in terms of segments.
Energy and Transportation – Sales fell by 20.3% ($958 million) to $3.7 billion.
Construction Industries – Sales fell by 7.8% ($377 million) to $4.4 billion.
Resource Industries – Sales fell by 28.9% ($591 million) to $1.4 billion.
Article continues below advertisement
Construction
Caterpillar's Construction (XHB) equipment sales came in better than expected, as the part of sales that are sold directly did better than sales via rental fleets. The company stated that the excess inventory situation was more of a reality in rental fleets, as most of the equipment pulled from the Energy sector ended up here.
The used equipment value index published by Rouse has declined 13 months in a row. Lower used equipment prices provide little motivation for rental fleets to replace their existing equipment.
Caterpillar (CAT), Deere & Company (DE), and Terex (TEX) are major suppliers of construction (ITB) equipment in the US. Unlike Caterpillar, Terex is a major rental sector supplier.