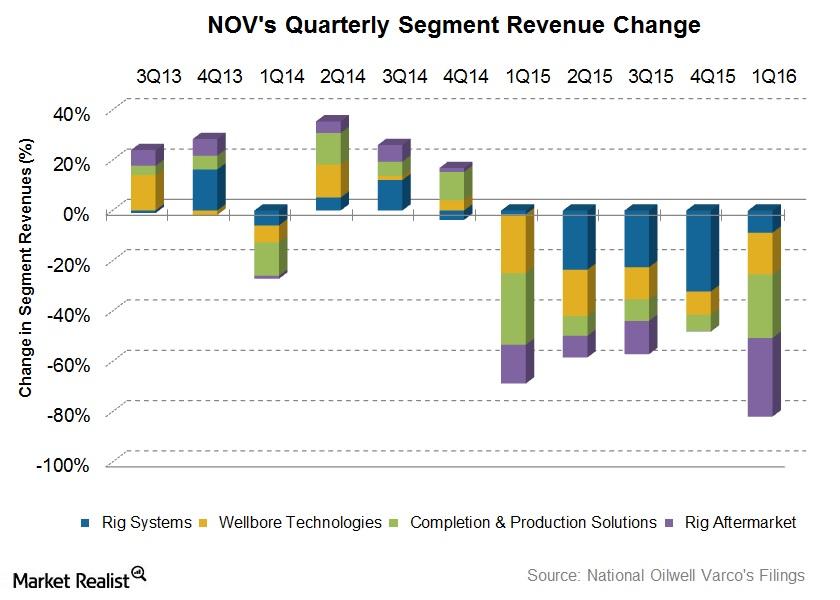 What Can Drive National Oilwell Varco in 2Q16?
By Alex Chamberlin

Jul. 12 2016, Updated 1:07 p.m. ET
National Oilwell Varco's revenue growth
National Oilwell Varco's (NOV) revenues were on a downtrend from fiscal 1Q15 through fiscal 1Q16. During this period, National Oilwell Varco's Rig Systems segment revenue declined 63%. This was the highest revenue drop among National Oilwell Varco's operating segments. Its Completion & Production Solutions segment witnessed a 41% revenue decline during the same period—the lowest among the segments.
In fiscal 1Q16, National Oilwell Varco's smaller market cap peer Oceaneering International's (OII) revenue decreased 23%—compared to a year ago. National Oilwell Varco accounts for 1.4% of the WisdomTree Dividend ex-Financials ETF (DTN). The energy sector accounts for 13% of DTN.
Article continues below advertisement
Factors that impacted National Oilwell Varco's performance
A sharp fall in spare parts sales in the aftermarket business had a negative impact on Rig Systems' earnings.
Suspended work with SETE Brasil Participacoes SA—its customer in Brazil—impacted National Oilwell Varco's performance. This will negatively impact National Oilwell Varco's backlog related to 15 floater contracts.
Demand erosion for National Oilwell Varco's spare rig parts as offshore drilling contractor customers cut their expenditures. This will have a negative impact on National Oilwell Varco's Rig Aftermarket segment.
Partially mitigating the negative effects above was the revenue per rig improvement due to the market share gain. This benefited National Oilwell Varco's Wellbore Technologies segment. Also, restructuring efforts—including workforce reductions and facilities closing—resulted in a 28% reduction in selling, general, and administrative expenses in fiscal 1Q16—compared to fiscal 1Q15.
What can drive National Oilwell Varco in 2Q16?
On July 7, National Oilwell Varco executed an agreement with GE Oil & Gas on delivering integrated solutions for Floating Production Storage and Offloading vessels. The new systems are expected to reduce the risk of construction delays and cost overruns for deepwater energy producers. However, the joint engineering efforts aren't expected to start offering solutions before early-2017.
On June 6, National Oilwell Varco signed an agreement to acquire Trican Well Service's completion tools business. The business designs and sells downhole tools for multi-stage fracturing and multi-zone completions in North America and certain international markets.
Next, we'll discuss how National Oilwell Varco's management outlook transpired in the past few quarters.