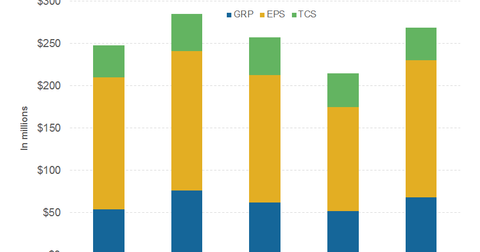 Can Arconic Get an Investment Grade Credit Rating after the Split?
By Mohit Oberoi, CFA

Updated
Investment grade credit rating
It's important to note that while Alcoa (AA) was targeting an investment grade credit rating (BND) for Arconic, the company seems comfortable with a split rating. Currently, Alcoa has a split credit rating from rating agencies. Alcoa has a Ba1 CFR (Corporate Family Rating) from Moody's with a negative outlook. This is the highest speculative grade credit rating. However, Standard & Poor's gave the company a BBB- rating. This is the lowest investment grade rating. In this part of the series, we'll see what factors could impact Arconic's post-split credit rating.
Peer companies
Please note that among Arconic's peer companies, Constellium (CSTM) has a B3 rating from Moody's with a negative outlook. Allegheny Technologies (ATI) carries a B2 rating with a negative outlook. However, Boeing (BA) carries an investment-grade A2 rating with a stable outlook from Moody's.
After the split, Arconic would become a play on the aerospace component market. The Engineered Products and Solutions segment supplies the aerospace sector. It would account for the bulk of Arconic's earnings as you can see in the above graph.
Slowdown
Due to changes in the market scenario, Alcoa expects aerospace demand to grow by 6%–8% this year—compared to the previous guidance of 8%–9%. Lower demand projections from Arconic's key end market is negative for the company.
However, the aerospace sector is still growing at a decent pace looking at the growth rates in some of the other end markets. Looking at Arconic's higher leverage ratios, it might face challenges in getting an investment grade credit rating. Arconic might not complain much even if it manages to get a split rating.
The next key event for Alcoa investors would be the company's 2Q16 earnings that are scheduled for July 11. Watch out for our upcoming series to explore what markets expect from Alcoa's 2Q16 earnings.
For more industry updates, visit Market Realist's Aluminum page.