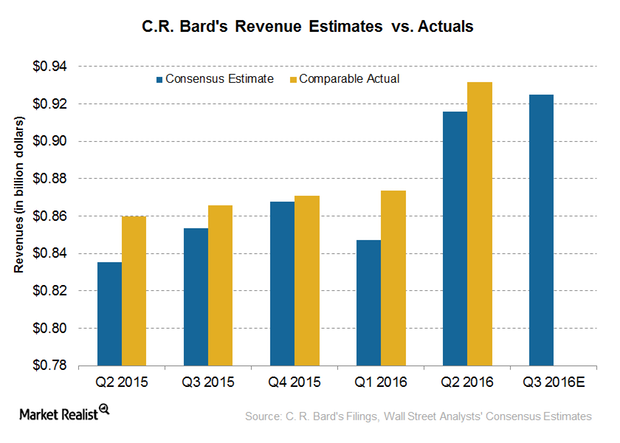 C.R. Bard Registered Strong 2Q16 Performance, Beat Estimates
By Sarah Collins

Jul. 29 2016, Updated 11:17 a.m. ET
2Q16 takeaways
On July 26, 2016, C.R. Bard (BCR) released its 2Q16 earnings. After the announcement, BCR's share price rose by ~1%, driven by its better-than-expected 2Q16 results. C.R. Bard also raised its fiscal 2016 earnings guidance.
In 2Q16, C.R. Bard earned revenues of ~$931.5 million, registering a growth of ~8.3% on a YoY (year-over-year) basis. It beat revenue estimates of $916 million as well as the company guidance of ~5.5%–7% revenue growth in 2Q16.
The organic growth rate for the quarter stood at 6.4%, which was also reported to be higher than the guidance range of 5.5%–6%.
The company registered diluted EPS (earnings per share) of $2.54, exceeding the earnings consensus estimate of $2.47. EPS results also exceeded the company guidance of $2.43–$2.47.
Article continues below advertisement
C.R. Bard's sales performance by geography
C.R. Bard's (BCR) reported revenues included the negative impact of around 0.7% attributable to foreign exchange. Thus, the company's constant currency revenue growth was ~9% on a YoY basis. In 2Q16, the United States sales were approximately 68% of the company's total sales in the quarter.
The company's YoY sales growth in the United States was registered as 7% whereas its international sales grew by 11%. On a constant currency basis, the international sales grew by ~14%. The emerging markets sales grew in double digits, with its Japan sales up by ~29%. Europe witnessed sales growth of ~7% and sales in the other international regions grew by ~15% in 2Q16.
For C.R. Bard's company overview and a discussion on fundamentals and key growth strategies, please read C. R. Bard, Medical Technology Giant: An Investor's Guide.
In 1Q16, C.R. Bard's peers Medtronic (MDT), Boston Scientific (BSX), and St. Jude Medical (STJ) reported revenues of about $3 billion, $1.5 billion, and $3.5 billion, respectively.
Investors interested in C.R. Bard can invest in the PowerShares S&P 500 Low Volatility Portfolio ETF (SPLV) to gain diversified exposure to the company. BCR accounts for ~0.90% of SPLV's total holdings.