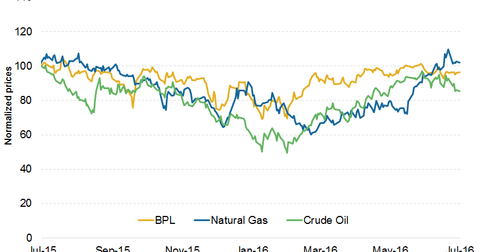 Buckeye Partners' Commodity Price Exposure: Key for Investors
By Kurt Gallon

Updated
BPL's commodity price exposure
The earnings of midstream companies, including larger ones such as Kinder Morgan (KMI) and Buckeye Partners (BPL) and smaller ones such as Boardwalk Pipeline Partners (BWP) and Crestwood Equity Partners (CEQP), aren't believed to have much direct commodity price exposure.
The correlation between Buckeye Partners' stock price and crude oil's (USO) price resulted in a correlation coefficient of 0.54 over the past year, while natural gas (UNG) and BPL have a correlation coefficient of 0.09 for the same period. A correlation coefficient of close to 1 could indicate a strong relation between two variables. 
The correlation between BPL and crude oil hasn't changed much over the past year. BPL's low correlation with natural gas reflects its negligible exposure to natural gas, while BPL's correlation with crude oil reflects its exposure to crude oil through its Merchant Services business.
Article continues below advertisement
BPL's indirect direct commodity exposure
Midstream companies are indirectly exposed to commodity prices through production levels. If crude oil and natural gas prices continue to stay low, upstream producers could cut their productions or even go bankrupt, which could result in lower throughput volumes, lower earnings, and higher counterparty risk.
However, this shouldn't affect BPL much considering its relatively low crude oil exposure, demand-pull activities, and stable fee-based contracts. 59% of BPL's earnings in 1Q16 were from refined products, 25% were from crude oil and condensate, and the remaining 16% were from NGLs (natural gas liquids). BPL also benefits from contango in the crude oil market. During contango, demand for storage rises.
Let's see what institutional investors think about Buckeye Partners in the next part of this series.