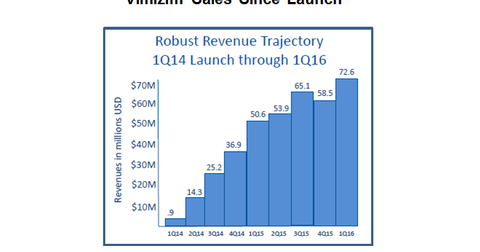 BioMarin's Key Order-Driven Drugs: Vimizim and Naglazyme
By Jillian Dabney

Updated
Vimizim
Vimizim, BioMarin Pharmaceutical's (BMRN) key product, is indicated for the treatment of mucopolysaccharidosis Type IV A (or MPS IV A). It has shown strong commercial uptake since its launch. For more information on the drug, please refer to Vimizim: A Recent Addition to BioMarin's Portfolio.
Vimizim generated $72.6 million during the first quarter of 2016. Strong growth has followed a continuously rising target population for the drug. BioMarin expects Vimizim to add $315 million–$340 million to its top line during fiscal 2016.
During the third quarter of 2015, Vimizim recorded higher sales with a large order from Latin America. So revenues from the drug are order-driven and expected to report in a choppy pattern.
Article continues below advertisement
BioMarin has a database of 1,900 identified patients. Brazil and Columbia are the major markets for Vimizim. In the United Kingdom, patients who were using the drug in clinical trials could use it commercially. This should result in higher revenues in the United Kingdom. However, a post-Brexit weaker pound may impose a challenge for BioMarin.
Naglazyme
Naglazyme is indicated for mucopolysaccharidosis I (or MPS I). It contributed 27.6% to BioMarin's total revenue in 1Q16. Naglazyme's revenues have been choppy historically since sales are government-order-driven, particularly in Brazil. For more information on the drug, please refer to Naglazyme: One of the Costliest Drugs in the United States.
According to Wall Street analysts' projections, Naglazyme should earn $89 million and $72.6 million in 2Q16 and 3Q16, respectively. That translates to a yearly sales growth of 31% and 30% in 2Q16 and 3Q16, respectively.
Risk associated with the two drugs
Naglazyme and Vimizim both have exposure in Brazil, Colombia, Argentina, and Mexico. The order pattern and any political or economic instability could affect the drugs' sales and, ultimately, BioMarin's share price.
To remain on the safer side, you can invest in ETFs such as the PowerShares QQQ ETF (QQQ), which holds 0.28% in BioMarin. This would offer you exposure to BioMarin and at the same time reduce your direct risk. Other major holdings of the fund include Amgen (AMGN), Gilead Sciences (GILD), and Celgene (CELG), with weights of 2.4%, 2.1%, and 1.6%, respectively, of the fund's total assets.