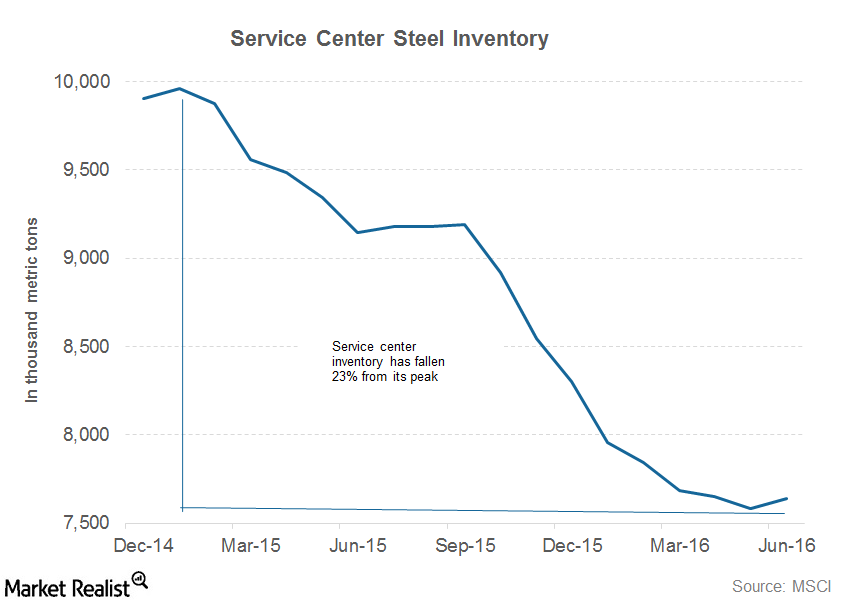 Are We Done with the Service Center Inventory Destocking Yet?
By Mohit Oberoi, CFA

Jul. 27 2016, Updated 11:06 a.m. ET
Service center
A metal service center acquires primary metals such as steel, aluminum, brass, copper, and alloy steel from metal producers. Reliance Steel & Aluminum (RS) is the largest service center in North America. These service centers act as a bridge between metal producers and end consumers.
According to estimates, service centers supply more than a quarter of the total steel in the United States (DIA). This makes them an important distribution channel for steel companies such as U.S. Steel (X), AK Steel (AKS), and Nucor (NUE).
Article continues below advertisement
Apparent versus real demand
In 2015, steel companies highlighted lower steel demand from service centers as one of the reasons behind falling steel shipments. Due to inventory destocking by service centers as well as steel end users, apparent steel demand was lower than real steel demand in 2015. You can define real steel demand as the steel consumed by end users. On the other hand, apparent demand also accounts for changes in inventory. If end buyers decrease their inventory levels, apparent demand falls below real demand, and vice versa.
June trends
In June 2016, US service center steel shipments fell 5.1% YoY (year-over-year). This was preceded by YoY declines of 2.3% and 6.3% in May and April, respectively. US service center steel shipments have been in a falling trend since the beginning of 2015.
However, in June, service center steel inventory increased slightly as compared to May. Having said that, in 2016, we haven't seen the inventory restocking activity that many were expecting. It seems that steel buyers are buying only according to their current needs and are not looking to restock their depleted inventories.
In the coming parts of this series, we'll look at steel's supply-side metrics beginning with global steel production.