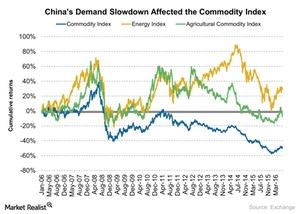 How Much of a Driver Is Agriculture for Brazil's Economy?
Agricultural commodity 
As Latin America's (ILF) largest country in terms of population and land size, Brazil (EWZ) is becoming a key player among the emerging economies (EEM) (VWO) (EDC). According to the French Ministry of Agriculture's Center for Studies and Strategic Foresight, Brazil ranks third in the world's major agricultural exporters. It is in fourth place for food products.
AmBev (ABEV) is the major Brazilian beverage company, which is mainly engaged in manufacturing various soft-drink products and beverage products. Brazil is the world's largest producer and exporter of products such as coffee, soybean, sugar cane, and tobacco.
Agribusiness accounts for 38% of Brazil's exports despite government fiscal stimulus to agricultural commodity (DBA) producers. Now, Brazil's domestic consumption pattern is also changing.
Article continues below advertisement
Agriculture constitutes 5.8% of Brazil's GDP, while it accounts for 2% in France (EWQ) and 0.6% in the United Kingdom (EWU). The agricultural commodity index has showed a strong move since 2003 with other commodities such as crude oil (USO) (BNO) and the metal index. The demand from the other emerging economies—mainly from China (FXI) (MCHI)—improved the demand for commodities.
Recent fall in the agricultural commodity index
The recent fall in the agricultural commodity index can be correlated to the rise in the US dollar (UUP) and the supply glut. Even El Niño's effects couldn't boost the agricultural commodity index, as high supply was wiping out the chances of a rise in prices.
According to a World Bank report, El Niño–related issues reduced the productions of a few commodities such as rice and palm oil, but these reductions weren't sufficient to boost the agricultural index (DBA).
In the next part of this series, we'll analyze how the recent fall in soybean prices could affect the Brazilian economy.