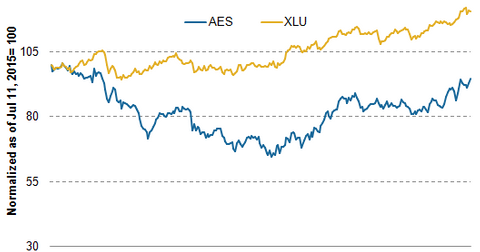 AES, NRG, CPN: Could Overvalued Utilities Get More Expensive?
By Vineet Kulkarni

Updated
AES Corporation's valuation
After surging nearly 20% in the past six months, almost all utilities have become overvalued. However, due to the volatility in broader equities, investors have taken shelter in utility stocks, making them more expensive. Let's see how AES Corporation (AES) is valued compared with peers.
As of July 11, 2016, AES Corporation (AES) was trading at an EV-to-EBITDA (enterprise value to earnings before interest, tax, depreciation, and amortization) multiple of 8.6x. AES is currently overvalued in comparison to its five-year-historical EV-to-EBITDA multiple of 7x.
Article continues below advertisement
Peer comparison
Merchant power players' average EV-to-EBITDA multiple is 9.3x. NRG Energy (NRG) and Calpine (CPN) are trading at valuation multiples of 8.6x and 11.1x, respectively.
The forward EV-to-EBITDA multiple considers the current EV and EBITDA estimates for the next 12 months, and AES's forward EV-to-EBITDA multiple is 8x. As its forward multiple is lower than its current multiple, we can expect that AES's EBITDA might be higher later in 2016.
PE ratio
AES's PE (price-to-earnings) ratio is 10.3x, while the industry's average ratio is approximately 12.3x. It will be interesting to see whether other merchant power players will continue to soar in 2016. NRG Energy's and Calpine's PE ratios are 12.3x and 14.6x, respectively.
Factors such as slower-than-expected interest rate hikes and better second-quarter results could fuel a rally in utilities. On the other hand, the overvalued utilities could see a major correction if these circumstances change. Let's discuss AES Corporation's forward dividend yields in the next part.