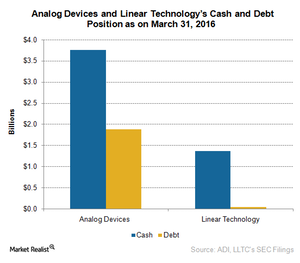 Linear Technology Wasn't Looking to Sell to ADI—What Changed Its Mind?
By Puja Tayal

Jul. 28 2016, Updated 4:48 p.m. ET
How will acquisition by ADI benefit Linear Technology?
In the previous part of this series, we saw that the news of Linear Technology's (LLTC) acquisition by Analog Devices (ADI) sent the former's stock up by 29% in just one day of trading.
Linear was not looking to sell its business, but ADI's offer had financial benefits that were appealing to shareholders. Let's understand what LLTC shareholders would get from the deal.
Analog Devices has agreed to pay Linear Technology's (LLTC) shareholders $46 in cash and 0.2321 ADI shares for every share of LLTC held at the close of the transaction. This equals $60 per share of Linear Technology, which is 24% above the $48.47 price on July 25, 2016. This is ~19 times its trailing 12-month EBITDA.[1. earnings before interest, tax, depreciation, and amortization]
Once the deal is closed, LLTC shareholders would own about 16% stake in the combined entity.
Article continues below advertisement
ADI's side of the deal
The acquisition values LLTC at $14.8 billion, of which ~$11 billion would be paid in cash and the remaining would be paid through the issue of about 58 million new shares of ADI. ADI would fund the cash portion of the deal by raising $7.3 billion in new debt and using some portion of its ~$3.8 billion cash reserve and Linear Technology's $1.3 billion cash reserve.
The transaction has been approved by the boards of both the companies, and it is expected to be completed by 1H17.
A look at the combined entity
The deal would create a combined analog IC (integrated circuit) company with an enterprise value of $30 billion and annual revenue of $5 billion. The combined entity would retain the name of Analog Devices and trade under the ADI symbol. ADI's president and chief executive officer, Vincent Roche, would head the combined entity.
The combined entity would offer stronger competition to Texas Instruments (TXN), which dominates the analog IC market. The ADI-LLTC deal is nearly similar to that of the ON Semiconductor (ON) and Fairchild deal which created a combined company with $5 billion in annual revenue. Texas Instruments acquired competitor National Semiconductor and updated production, which helped TXN expand its product offerings and achieve economies of scale.
Next, we will see the impact of the acquisition on the earnings of LLTC and ADI. The VanEck Vectors Semiconductor ETF (SMH) has holdings in 26 semiconductor stocks, including ~5.0% in TXN, ~2.0% in LLTC, ~4.3% in ADI, and ~1.1% in ON.