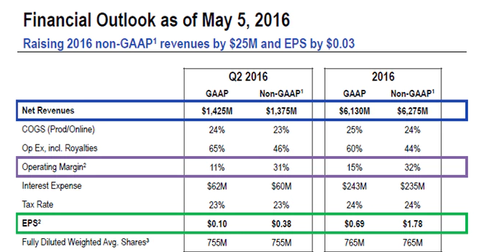 How do Activision and Electronic Arts View 2016 Overall?
By Adam Rogers

Jul. 27 2016, Updated 1:10 p.m. ET
Activision expects revenues of $1.4 billion in 2Q16
Activision (ATVI) expects GAAP (generally accepted accounting principles) net revenues of $1.4 billion in 2Q16. In comparison, analysts expect revenues of $1.44 billion in 2Q16.
Activision plans to release World of Warcraft's next highly anticipated expansion, Legion, in 2016. The firm also plans to release two more map packs for Call of Duty, a large expansion for Destiny, and new releases in 4Q16 for Skylanders and Call of Duty.
King (KING) also plans to release two non–Candy Crush franchise games. One will be released in 2016 and the other in 2017.
Electronic Arts expects non-GAAP revenues of $640 million
In fiscal 1Q17, Electronic Arts (EA) expects non-GAAP revenues of $640 million compared to analyst estimates of $652.39 million. It will be interesting to note the number of players Electronic Arts has at the end of fiscal 1Q17.
During its Investor Day event in June 2016, Electronic Arts stated that it has over 54 million unique players in EA sports games in fiscal 2016. Electronic Arts also has over 9.4 million players in the Battlefield franchise in fiscal 4Q16.
The firm now expects non-GAAP revenue of $4.9 billion, non-GAAP net income of ~$1.1 billion, and free cash flow of $1.2 billion in fiscal 2017.
Article continues below advertisement