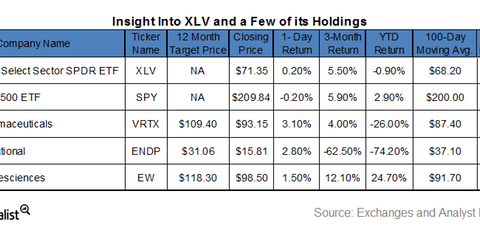 XLV Broke the $70 Jinx: It's Working to Reach a 3-Month High
By Peter Neil

Updated
Reviewing XLV
After the long weekend, the Market took a break from its upward surge. Markets were dragged down by the energy sector as crude traded below $50.0 along with profit-booking. The Dow Jones Industrial Average and the SPDR S&P 500 ETF (SPY) fell by 0.5% and 0.2%, respectively. The biotechs remained positive and continued to rally. The Health Care Select Sector SPDR ETF (XLV) gained 0.2% as of May 31, 2016.
Article continues below advertisement
The above table gives information on moving average prices, returns, and the closing price of XLV, SPY, and a few holdings of XLV as of May 31, 2016. XLV closed at $71.35. It broke the $70 jinx. XLV stayed below $70 for quite a few days. It's trading above the 20-day moving average of $69.90. However, XLV has fallen by 0.9% on a YTD (year-to-date) basis.
Outperformers and underperformers
On May 31, 2016, the top gainers within XLV include Vertex Pharmaceuticals (VRTX) and Endo International (ENDP). They rose by 3% and 2.8%, respectively. Endo International moved up for no reason and continued its three-day rally. However, Goldberg Law Firm announced that it was investigating claims of potential misrepresentations by Endo International. The investigation is based on its quarterly filings on May 6, 2016, related to "loss of exclusivity" of Volteran Gel. Volteran Gel saw decreased revenue.
Article continues below advertisement
Endo International closed at $15.81. It was trading below the 20-day moving average price of $17.5. On a YTD basis, the stock has fallen by 74.2%. As of the closing price on May 31, the stock is trading at a 2016 forward PE (price-to-earnings) multiple of ~3.5x. Endo International's book value is at $26.61 per share. This represents a price-to-book value of ~0.6x—the lowest among XLV's holdings. Endo International has a weight of ~0.1% in XLV's holdings.
Edwards Lifesciences (EW) was the underperformer within XLV's holdings on May 31, 2016. The stock fell by 1.5% due to profit-booking. It had a trading volume of ~3 million shares traded—compared to the three-month average trading volume of ~1.8 million shares per day. In a press release, Edwards Lifesciences announced that it will "present at the Goldman Sachs 37th Annual Global Healthcare Conference at the Terranea Resort in Rancho Palos Verdes, California, on Tuesday, June 7, 2016." Edwards Lifesciences has gained 24.7% on a YTD basis. It has a weight of ~0.8% in XLV's portfolio.