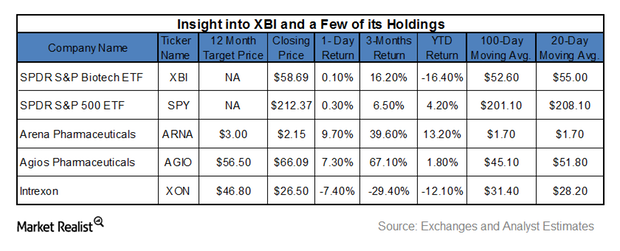 XBI Remained Stable as the Markets Rallied on Higher Oil Prices
By Peter Neil

Aug. 18 2020, Updated 6:26 a.m. ET
XBI stable
On June 8, 2016, the Market resumed its upward trend, cashing in on the weak dollar and the rally in oil, which traded above $51.00. The Dow Jones Industrial Average closed above 18,000 and gained 0.4%.
The SPDR S&P 500 ETF (SPY) gained 0.3%. On June 8, the biotech and healthcare sectors had a mixed day and remained sluggish. The SPDR S&P Biotech ETF (XBI) gained 0.1% for the day.
The SPDR S&P Biotech ETF closed at $58.69 and traded above the 20-day moving average of $55.00. This ETF has fallen by 16.4% on a year-to-date basis. Among the 86 stocks within XBI's portfolio, 46 stocks advanced and 40 stocks declined from the fund's previous day's closing.
XBI's relative strength index (or RSI) is 61, indicating that the stock is neither overbought nor oversold. XBI's 52-week low is $44.16 and its 52-week high is $91.11.
Article continues below advertisement
XBI's outperformers and underperformers
On June 8, Arena Pharmaceuticals (ARNA) and Agios Pharmaceuticals (AGIO) were the top performers within XBI and rose by 9.7% and 7.3%, respectively. Arena Pharmaceuticals and Agios Pharmaceuticals rose on higher trading volumes, which we'll discuss in this series.
Approximately 2.5 million shares of Arena Pharmaceuticals were traded compared to its three-month average trading volume of ~2 million shares per day. Arena closed at $2.15 per share and was trading above its 20-day moving average of $1.70. The stock is up by 13.2% on a year-to-date basis.
On the other hand, Intrexon (XON) was the most underperforming stock within XBI and fell by 7.4%. The stock's fall is related to the perception of risk in introducing a genetically engineered mosquito to combat Zika virus. XON closed at $46.80 per share and traded above its 20-day moving average. The stock has fallen by 12.1% on a year-to-date basis. XON has a weight of 1.3% in XBI's portfolio.