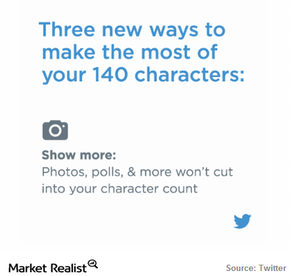 Why Twitter Changed the Way It Counts Tweet Length
By Amit Singh

Dec. 4 2020, Updated 10:52 a.m. ET
Express more in 140 characters
Twitter (TWTR) announced a major step in making its core product easier to use. Recently, the company stated that it is working toward simplifying tweets, including how it counts the tweet length. Twitter announced that user names, images, and videos will no longer be counted against its 140-character limit.
This is important, as the extension of the tweet length gives users the ability to express more through images, videos, and other media attachments. This, in turn, will create opportunities to invite new users to post comments, discuss recent events, and interact more on the platform. Twitter's USP (unique selling point) is its platform that highlights breaking news and recent updates from celebrities and major brands.
According to the company, "@names in replies and media attachments (like photos, GIFs, videos, and polls) will no longer "use up" valuable characters." In addition, users will also be able to retweet or quote their own tweets.
Article continues below advertisement
Twitter hopes to drive user growth
Ever since Twitter's co-founder, Jack Dorsey, returned to its helm, the company has announced several significant measures to simplify its platform. The recent move, which is more focused around conversation, could help the company to drive user growth. In 2015, the company announced the removal of its 140-character limit from its direct messages.
Twitter faces fierce competition from Facebook (FB), Snapchat, LinkedIn (LNKD), and Instagram. Snapchat is growing in popularity and is expected to have more US (SPY) users than Twitter by the end of 2016.
As the company struggles to drive user growth, several reports suggested that a tech giant such as Google (GOOG) or Apple (AAPL) could acquire the company.