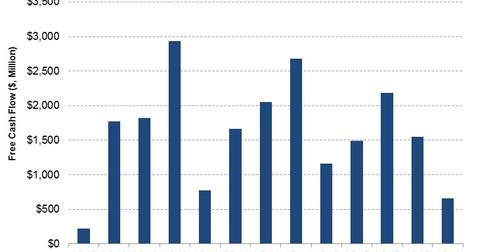 Why Schlumberger Remains the Best OFS Stock after Brexit Vote
By Alex Chamberlin

Updated
The best OFS stock around
Schlumberger (SLB) is the largest company in the OFS (oilfield equipment & service) industry by market capitalization. In this series, we'll analyze Schlumberger's performance. We'll start by looking at Schlumberger's robust business model.
Article continues below advertisement
SLB's overarching strategy
Schlumberger, despite the energy sector weakness, remains a strong OFS company. Its business model is diversified and not overly dependent on any particular line of business. Its operations are geographically spread over 85 countries. Thus, the company is relatively insulated from an energy business cycle downturn in any particular geographic location. The strength of SLB's business model is characterized by the following:
investment in technology
change from a traditional approach to "integrated services management"
integration with Cameron International
Only 26% of SLB's fiscal 1Q16 revenues were generated in the Europe, CIS (Commonwealth of Independent States), and West Africa region
Schlumberger's fundamentals
The fall in crude oil prices followed by the rig count crash that began in October 2014 took its toll on even the best of the OFS stocks like Schlumberger. SLB's year-over-year fiscal 1Q16 revenue fell 36% while it recorded $501 million net income in fiscal 1Q16. SLB's capex has been much steadier in the past one year compared to its peers. Schlumberger's free cash flow (or FCF) has been positive in the past 13 quarters. Although FCF fell 43% year-over-year to $661 million in fiscal 1Q16, it was much stronger compared to most of SLB's peers in the industry. In fiscal 1Q16, Weatherford International's (WFT) FCF was -$248 million while Forum Energy Technologies' (FET) fiscal 1Q16 FCF fell 39% compared to a year ago.
Also, its merger with Cameron International has added to its product and service portfolio. In 2015, SLB reduced its workforce by 14,000 and saw realized annualized cost savings of $973 million. Schlumberger makes up 0.6% of the SPDR S&P 500 ETF (SPY).
Schlumberger's worry
Schlumberger's (SLB) net debt to TTM (or trailing-12-month) EBITDA (earnings before interest, tax, depreciation, and amortization) more than doubled to 1.1x in fiscal 1Q16 compared to the corresponding period last year. Net debt to EBITDA reflects how easily a company can repay its debts from its operational earnings and available cash. By comparison, Oceaneering International's (OII) fiscal 1Q16 net debt to EBITDA was 0.77x in 1Q16.
Being the strongest contender for the best OFS company, we'll compare SLB's valuation versus peers in the OFS industry in the following part of the series. You can also read Market Realist's Wall Street's Picks: Best and Worst Oilfield Services for 2Q16.