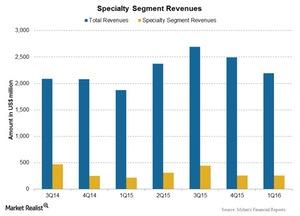 Why Mylan's Specialty Segment Reported Strong Q1 Growth
By Mike Benson

Jun. 27 2016, Updated 11:08 a.m. ET
The Specialty segment
Mylan's (MYL) specialty segment develops and sells branded specialty products. These products include injectables and nebulized products focused on respiratory and allergy therapies. The specialty segment reported an increase of 17% in revenues at $247.9 million in 1Q16 versus $211.1 million in 1Q15.
The growth in 1Q16 was driven by the EpiPen auto-injector and the Perforomist inhalation solution.
Article continues below advertisement
EpiPen Auto-injector
The EpiPen Auto-injector is an emergency treatment for anaphylaxis. The EpiPen is approved as the first-line treatment of anaphylaxis and useful in allergic reactions caused by bee stings, seafood, peanuts, and other food, medicines, and insect bites or stings.
The EpiPen auto-injector competes with Sanofi's (SNY) Auvi-Q, Amedra Pharmaceuticals's Adrenaclick, and Lineage Therapeutics's Epinephrine injection. Amedra Pharmaceuticals is a subsidiary of Impax Laboratories (IPXL).
Perforomist inhalation solution
The Perforomist inhalation solution is a twice-daily, long-acting bronchodilator used for chronic obstructive pulmonary disease. It's a maintenance treatment, not a rescue treatment.
Perforomist competes with Novartis's (NVS) Foradil Aerolizer, GlaxoSmithKline's (GSK) Advair, and AstraZeneca's (AZN) Symbicort.
Other drugs under the specialty segment include Ultiva, an analgesic agent, Emsam, an antidepressant, DuoNeb and AccuNeb nebulized products, and EasiVent breathing devices.
Investors can consider the PowerShares Dynamic Pharmaceuticals ETF (PJP), which invests 4% of its total assets in Mylan, in order to divest risk. PJP also invests 5% of its total assets in Amgen (AMGN), 4.7% in Gilead Sciences (GILD), and 4.8% in Eli Lilly (LLY).