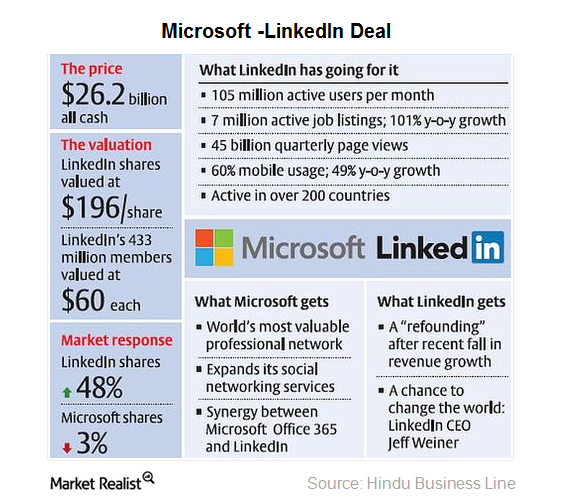 Why Microsoft's AAA Rating Might Be Downgraded
By Anne Shields

Jun. 20 2016, Updated 11:05 a.m. ET
Microsoft's significant cash parked overseas exposes it to currency fluctuations
Previously in the series, we discussed Microsoft's (MSFT) recent multi-billion dollar acquisition of LinkedIn (LNKD). We also discussed why Microsoft with its significant cash reserves parked overseas in comparison to peers like Apple (AAPL), IBM (IBM), Google (GOOG) (GOOGL), and Cisco (CSCO) resorted to debt to finance the LinkedIn acquisition.
Article continues below advertisement
S&P reaffirms Microsoft's AAA rating even with increased debt
Microsoft plans to fund the $26.2 billion LinkedIn acquisition with debt. This naturally raises a question about a rating change for Microsoft, which has an AAA rating from S&P (Standard and Poor's). On the other hand, LinkedIn has a BB+ rated convertible bond by S&P, which is the first rung below investment-grade. After Microsoft's acquisition announcement, LinkedIn's issue per $100 of par value jumped from $94 to $99 on June 13, 2016. Though S&P affirmed Microsoft's AAA rating even with new debt and kept its outlook "stable," Moody's is of a different opinion.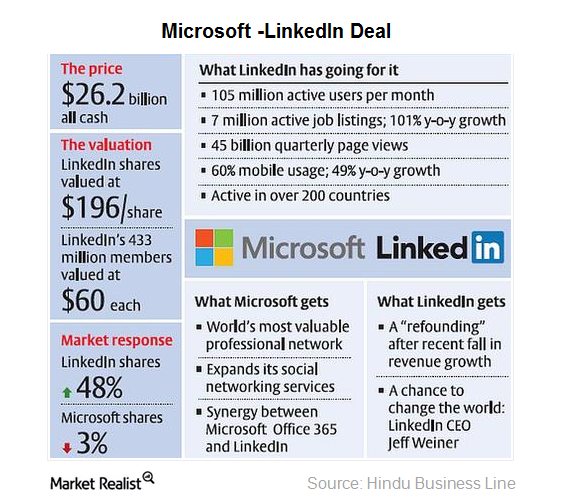 Microsoft's rating after LinkedIn acquisition might be downgraded
Moody's might downgrade Microsoft due to its concern about the company's increased debt level. According to Richard Lane, an analyst with Moody's, "Funding the acquisition entirely with debt, however, will increase Microsoft's gross debt to EBITDA to approximately 2.0 times, in excess of 1.5 times leverage Moody's has previously noted could pressure the rating."
There is a strong possibility that this news had a dampening effect on some of Microsoft's issues. One of its corporate issues due for maturity in 2029, which traded at $126 per $100 par value, fell to $123 on June 13.
Despite the new debt, Microsoft plans to complete its existing $40 billion share repurchase authorization by December 31, 2016, as it committed to previously.
Investors who want to gain exposure to Microsoft could consider investing in the SPDR S&P 500 ETF (SPY). SPY invests ~2.4% of its holdings in Microsoft. It also has an ~8% exposure to the application software sector.